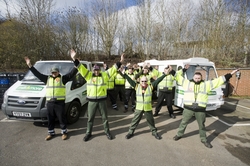 London, UK (PRWEB) April 1, 2010
Milkmen have been delivering that early pint of milk to the nation's front doors for over 150 years, and now they are delivering a new type of milk, 1% fat milk. The new offering from milk&more has the all important nutritional benefits you would expect to find in milk, with the same amount of calcium and B vitamins, whilst being an alternative way to cut down on calories, fat and saturated fat intake.
The milkman as we know him started when customer demand for home milk delivery prompted the milkman to pick up a low-wheeled cart to make his many deliveries. Since then the milkman has become a reliable fixture in the local community and a much loved British institution. Dairy Crest's new online grocery delivery service milkandmore.co.uk can cater to all requirements, which is then delivered to your doorstep at the click of a button for free, providing over 250 daily essentials from organic yogurts and Yakult to pet food, dishwasher tablets and of course, milk. There is no need to book a delivery slot and as long as the order is made by 9pm the previous evening, even first time customers could have it delivered by their local milkman as early as the next morning.
Notes to editors:
1% fat milk is not recommended for children aged below 5
The different milk choice explained:
Whole Milk – whole milk has a creamy flavour and contains less than 4% fat. Whole milk should be drunk by children aged between one and two.
Semi Skimmed Milk – The UK's most popular type of milk, with around half the fat content of whole milk. It has slightly more calcium than whole milk and is suitable for children aged two and above, as part of a healthy, balanced diet.
1% Fat Milk – milk&more's new type of milk has about half the fat semi skimmed milk. It contains the same amount of calcium and B vitamins as semi skimmed and skimmed milk, but is not recommended for children aged below 5.
About milk&more:
milk&more is a flexible, online delivery service offering organic food delivery with a choice of over 250 daily essentials to thousands of doorsteps in England and Wales. The milk&more delivery channel, is part of the biggest home delivery service of milk and products in the UK, which delivers to over 1.2 million homes, up to 6 days a week.
Dairy Crest, which is the UK's leading chilled dairy foods company, launched its milk&more online service in 2009, across England and Wales. Dairy Crest manufactures a range of everyday dairy brands, including the award-winning Cathedral City cheddar, Clover spread, Utterly Butterly spread, Country Life butter and Frijj, the top selling flavoured milk drink. St.Hubert is the top selling spread in France.
Dairy Crest supplies liquid milk and top dairy brands to the UK's biggest retailers including Marks & Spencer, Waitrose, Sainsbury's and Morrisons.
###