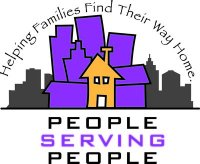 People Serving People's success is truly an indicator of how well our community works together in addressing family homelessness. Thank you, neighbors!"

Dr. Craig Lewis
Minneapolis, MN (PRWEB) April 27, 2011
Mill City Times, a community news and community service organization, named People Serving People a Community Cornerstone award winner, recognizing the positive impact on the Mill District neighborhood of Minneapolis by the neighborhood group.
"People Serving People plays a vital role beyond being a haven for families in need of shelter" according to Kim Eslinger, Editor of the Mill City Times. "They help prepare families for success in living after they find permanent housing" said Eslinger.
"We are so thrilled to receive this award for making a difference in the Mill City neighborhood, but we cannot take credit for making a difference ourselves. The families that stay at our shelter are working hard on improving their lives, the volunteers who live and work nearby are spending time on helping children and parents to have solid ground to stand on, and the people who give their own money are helping our programs to operate at full capacity. People Serving People's success is truly an indicator of how well our community works together in addressing family homelessness. Thank you, neighbors!" said Dr. Craig Lewis, President/CEO on news of the award.
ABOUT PEOPLE SERVING PEOPLE
People Serving People provides emergency shelter to 99 homeless families every night in Hennepin County. Located in Downtown Minneapolis, this 10-story building is essentially a hotel whose primary form of hospitality comes in helping families to overcome homelessness. Families come to the shelter because of landlord foreclosures, job loss, financial crisis, evictions, overwhelming medical expenses, etc – and they leave with stronger community connections, dedicated advocates, employment, stable housing, and a chance at a better future. The heart and soul of People Serving People's work is the time spent on strengthening the futures of the 200+ children at the shelter every day – through early childhood education, healthy meals, volunteer readers and tutors, healthcare, family activities, school transportation, and stabilization of family life. Everyone deserves to have a place to call home – and People Serving People depends on the community's support to help families find their way home. Visit them on the web at http://peopleservingpeople.org for more information.
ABOUT THE MILL DISTRICT COMMUNITY CORNERSTONE AWARDS
The Community Cornerstone Awards are given to organizations that contribute to the growth, health and vibrancy of the Mill District neighborhood of Minneapolis. The Mill City Museum, Guthrie Theater, MacPhail Center for Music, Open Book, People Serving People and Mill City Commons are currently recognized as cornerstones of the Historic Mill District of Minneapolis.
ABOUT MILL CITY TIMES
Mill City Times is a not for profit community news and community service organization founded by Mill District residents and Enterprise Software entrepreneurs Kim Eslinger and David Tinjum.
You can find them on the web at http://MillCityTimes.com
###