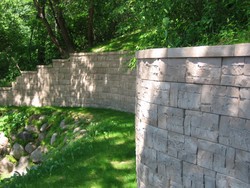 So many companies make green claims about their products these days. An independent source of dependable information is vitally important. GreenSpec is not sponsored by any industry group, does not rely on fees from manufacturers, and accepts no advertising
Minneapolis, MN (PRWEB) July 29, 2008
Millenia Wall Solutions, developer of the revolutionary Millenia® Retaining Wall System, announced that its lightweight, eco-friendly retaining wall units have been selected for listing in the GreenSpec Directory. Building industry professionals rely on GreenSpec as the most accurate, unbiased and trustworthy source of authoritative information on products that are truly green. GreenSpec undertakes rigorous analysis of all products submitted for review and endeavors to include only the top 5-10 percent of the most environmentally positive alternatives among all green products.
"So many companies make green claims about their products these days. An independent source of dependable information is vitally important. GreenSpec is not sponsored by any industry group, does not rely on fees from manufacturers, and accepts no advertising," said Paul Forsberg, president, Millenia Wall Solutions. "As a GreenSpec-listed product, Millenia retaining wall units can be selected with confidence for sustainable development and green building projects."
Millenia uses 100 percent recycled, pre-consumer polymeric resin materials in all its wall products. These materials are inert and do not leach any chemicals into the soil. Because they are lightweight, it takes much less energy to transport Millenia® wall units (versus conventional wall materials) from the factory to distributors and then to project sites.
An independent Life Cycle Assessment (LCA) affirmed that when used instead of concrete blocks, Millenia® polymer wall units provide a 55 percent reduction in total environmental impact, including a 65 percent reduction in associated greenhouse gas emissions, which causes global warming. Based on the Leadership in Energy and Environmental Design (LEED) Green Building Rating System, developed by the U.S. Green Building Council, using Millenia® walls units in construction applications can earn up to eight LEED credit points in at least two categories.
Millenia Wall Solutions and its innovative retaining wall system will be featured in a special segment on the Blueprint for Green show on KARE-11 TV, the NBC affiliate in Minneapolis-St. Paul, Minn. Hosted by Randy Meier, Blueprint for Green is an exciting and informative television program focused on sustainable design and green construction materials and methods. The episode with the Millenia® segment will air on Saturday, August 2, 2008 at 12:00 noon (central time).
About Building Green, LLC and GreenSpec*:
Building Green, LLC (http://www.buildinggreen.com/about) publishes the GreenSpec directory of green products. Based in Brattleboro, Vt., Building Green, LLC is an independent publishing company committed to providing accurate, unbiased and timely information on green design and construction. Building Green, LLC offers both print and electronic resources, including Environmental Building News, to help building industry professionals design and construct projects from a whole-systems perspective that takes an integrated design approach in order to minimize ecological impact and maximize economic performance. The company maintains full control over GreenSpec product selection and product descriptions.
About Millenia Wall Solutions:
Headquartered in Minneapolis, Minn., Millenia Wall Solutions (http://www.milleniawalls.com) is setting the 21st century standard for the construction of segmental retaining walls by advancing the most significant innovation in the industry since the 1980s. Millenia is introducing an inventive, high-tech alternative to conventional building materials. Millenia is a member of the U.S. Green Building Council and GreenSpec-listed. Our retaining walls are eco-friendly and offer incomparable beauty, strength, stability and durability -- achieved with lightweight, recycled polymeric resin materials that landscape contractors can install easily, quickly and with less labor. The Weight is Over™. Ready to Build Intelligently®? Check out the Millenia® Project Video on our Web site. Then give us a call at 1.866.549.WALLS (9255).
Notes to Editors: Millenia maintains an online newsroom for the convenience of the media. The Millenia Project Video on the company's Web site offers a useful introduction to the features and benefits of the Millenia® retaining wall system. Images of walls completed with the Millenia® system are available to members of the media upon request. Paul Forsberg, president of Millenia Wall Solutions, is available for interviews.
*GreenSpec is a trademark of Building Green, LLC.
###