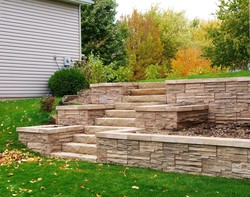 The addition of 90° corners enhances the product and supports a wide range of construction applications.
Minneapolis, MN (PRWEB) October 29, 2008
Millenia Wall Solutions® is revolutionizing the segmental retaining wall (SRW) industry by advancing the most remarkable technical innovation in retaining walls since the 1980s. Millenia's recycled polymer retaining walls offer refined aesthetics, outstanding durability, labor-saving installation efficiency, and a lower environmental impact than traditional wall products. Now with 90° corners, Millenia SC100™ wall units can be used for freestanding border walls, columns, terraces, pilasters and planters.
Millenia® wall units express the true beauty of natural stone. "With Millenia's proprietary imaging technology, we make precise impressions of real stone faces and quarried stone from which we form the molds for manufacturing our retaining wall faces and caps," said Paul Forsberg, president, Millenia Wall Solutions. "Injection molding pressures our 100 percent recycled pre-consumer polymeric material into every nook and niche of the molds, capturing every fine detail. Distinctive paints and additives impart the color and texture of natural stone."
"Millenia gets closer to the look of a real stone wall than any other material I've seen," said James S. Martin, president, RidgeRock® Retaining Walls Inc., developer of RidgeRock retaining walls and Millenia's exclusive dealer in North and South Carolina and Southern Virginia.
"The Millenia® product takes on the look of natural stone, and it feels like real stone, too," said Mark Sawyer, president, Stone Center of Indiana, which distributes Millenia® products in Indiana.
"Landscape architects and contractors are looking for a new alternative that is more natural in appearance than conventional SRW materials, and that's what Millenia Wall Solutions has achieved," said Steven M. Link, president, Service Konstruction Supply, Inc., Millenia's dealer for Northern Illinois, Northwest Indiana and Southeast Wisconsin. "The addition of 90° corners enhances the product and supports a wide range of construction applications."
Corner units are available in each of Millenia's four exceptional wall unit styles:
AshlarStone - the traditional look of cut stone with varied sizes of rectangular shapes
ChiseledStone - the timeless appearance of hand-chiseled quarried stone
LedgeStone - a true expression of the texture and cleft of natural stone
SandStone - a classic style with the intricate detail of linear, hand-cut stacked stone
Millenia produces each style in five varied patterns so that finished walls have the subtle differences in texture and intricate detail that are elemental qualities of natural stone. And each style is offered in several natural colors, including Adobe Tan and Slate Gray.
About Millenia Wall Solutions
Headquartered in Minneapolis, Minn., Millenia Wall Solutions (http://www.milleniawalls.com)] is setting the 21st century standard for the construction of segmental retaining walls by advancing the most significant innovation in the industry since the 1980s. Millenia has introduced an inventive, high-tech alternative to conventional building materials. Millenia is a member of the U.S. Green Building Council and GreenSpec*-listed. Our retaining walls are eco-friendly and offer incomparable beauty, strength, stability and durability - achieved with lightweight, recycled polymeric resin materials that contractors can install easily, quickly and with less labor. The Weight is Over™. Ready to Build Intelligently®? Check out Millenia on our Web site. Then give us a call at 1.866.549.WALL (9255).
Millenia will exhibit its advanced retaining wall system, a green construction product for which up to eight LEED credit points are available, at the Greenbuild International Conference & Expo (booth #1769), November 19-21, 2008, Boston Convention & Exhibition Center, Boston, Mass. and at Hardscapes North America (booth #932), January 16-17, 2009, Cobb Galleria Center, Atlanta, Ga.
Paul Forsberg, retaining wall expert and president of Millenia Wall Solutions, discusses the importance of earth-friendly retaining walls for green building in "Part of a Greater, Sustainable Whole." The article was published in the September 2008 issue of Sustainable Land Development Today (SLDT). The article includes a summary case study of a residential retaining wall project. Free reprints of Forsberg's article are available from Millenia Wall Solutions. Send an e-mail with contact information and mailing address details to info @ milleniawalls.com.** Put "SLDT Reprint" in the subject line.
*GreenSpec is a trademark of Building Green, LLC.
**E-mail formatted to protect against spambots.
###