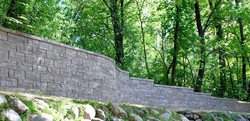 Big changes in construction materials don't come along too often. Millenia has come up with the first major technological development in retaining walls in a very long time. By fulfilling the demand for high-end aesthetics and earth-friendly materials, Millenia establishes a new niche in the SRW product mix between concrete blocks and real stone
Minneapolis, MN and Charlotte, NC (PRWEB) October 7, 2008
Millenia Wall Solutions, developer of the Millenia® Retaining Wall System, announced that it has named RidgeRock Retaining Walls Inc. as its exclusive dealer in North and South Carolina and southern Virginia. Millenia is transforming the segmental retaining wall (SRW) industry with its ingenious retaining wall system, the most advanced SRW technology available today. RidgeRock (Charlotte, N.C.), developer of the RidgeRock® Retaining Wall System, is now selling Millenia® Retaining Walls as a new option for contractors.
"Big changes in construction materials don't come along too often. Millenia has come up with the first major technological development in retaining walls in a very long time. By fulfilling the demand for high-end aesthetics and earth-friendly materials, Millenia establishes a new niche in the SRW product mix between concrete blocks and real stone," said James S. Martin, president, RidgeRock Retaining Walls Inc. "Millenia is becoming a design-specified material by architects and engineers -- particularly for walls that are prominent landscaping features. That's why we are offering the Millenia® system as an alternative to our concrete products."
"RidgeRock is well known for its commitment to meeting the design and engineering requirements of its contractor customers," said Paul Forsberg, president, Millenia Wall Solutions. "Jim Martin's decision to supplement his product line with our system signals that there is market demand for a new SRW alternative."
The Millenia® system sets the 21st century standard for the design and construction of segmental retaining walls:
SUPERIOR AESTHETICS: Millenia produces its wall products in 100 percent recycled, pre-consumer polymeric resins. "Millenia gets closer to the look of a real stone wall than any other material I've seen," said Martin. "With concrete, given the limitations of the material and inflexibility of the dry-cast process and machinery, you just can't get the detail that Millenia achieves." Millenia Wall Solutions takes precise impressions of natural stone faces and quarried stone from which it creates the molds used to produce its retaining wall faces and caps. Injection molding gets the pliable polymer material into all the details of the molds and captures the nuances of natural stone and quarried rock. Each style of the product is produced in five different patterns, so the faces of a Millenia® wall have natural variations.
BETTER FOR THE ENVIRONMENT: According to an independent Life Cycle Assessment (LCA), when used instead of concrete SRW blocks, Millenia® polymer wall units reduce total environmental impact by 55 percent (including a 65 percent decrease in greenhouse gas emissions). "The availability of up to eight LEED credits points is a strong selling point for Millenia," said Martin.
MORE ECONOMICAL TO SHIP AND INSTALL: Millenia® wall units weigh just five pounds per square foot. When installed with crushed stone fill, a Millenia® wall has all the weight and stability of any other SRW. Because of their much lighter weight, Millenia® wall units offer easy and fast installation that can double installer productivity. "Millenia's light weight reduces shipping and material handling costs," said Martin. "Plus, it's an ideal product for especially steep sites with difficult access."
About RidgeRock Retaining Walls Inc.:
Established in 1997 and headquartered in Charlotte, N.C., RidgeRock Retaining Walls Inc. is the developer, marketer, and patent holder of the RidgeRock Retaining Wall System. RidgeRock Retaining Walls Inc. was formed to meet the specific requirements of the rapidly growing market for engineered wall systems. RidgeRock's successful growth can be attributed to the company's interest in addressing all unique aesthetic design and installation requirements of designers, contractors, and owners. Additional information is available at http://www.ridge-rock.com or by calling 704.504.3358.
About Millenia Wall Solutions:
Headquartered in Minneapolis, Minn., Millenia Wall Solutions (http://www.milleniawalls.com) is setting the 21st century standard for the construction of segmental retaining walls by advancing the most significant innovation in the industry since the 1980s. Millenia has introduced an inventive, high-tech alternative to conventional building materials. Millenia is a member of the U.S. Green Building Council and GreenSpec-listed. Our retaining walls are eco-friendly and offer incomparable beauty, strength, stability and durability - achieved with lightweight, recycled polymeric resin materials that contractors can install easily, quickly and with less labor. The Weight is Over™. Ready to Build Intelligently®? Check out Millenia on our Web site. Then give us a call at 1.866.549.WALL (9255).
Millenia will exhibit its retaining wall system at the Greenbuild International Conference & Expo (booth #1769), November 19-21, 2008, Boston Convention & Exhibition Center, Boston, Mass. and at Hardscapes North America (booth #932), January 16-17, 2009, Cobb Galleria Center, Atlanta, Ga.
###