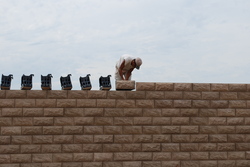 I have a product design and manufacturing background, so when I first met Millenia, I was impressed with the ingenuity of their remarkable SRW concept
Minneapolis and Indianapolis, Ind. (PRWEB) September 25, 2008
Millenia Wall Solutions, developer of the Millenia® Retaining Wall System, the most innovative advance in the segmental retaining wall (SRW) industry in more than 20 years, announced that Stone Center of Indiana has agreed to distribute Millenia® products. Millenia Wall Solutions' polymer retaining wall system provides superior aesthetics, more long lasting durability, much greater installation efficiency, and a lower environmental impact than conventional SRW materials. Stone Center of Indiana is the one-stop, full-service source for Indiana's largest selection of architectural and landscape stone products. They will conduct two-hour open house events on October 15 and 16, 2008 to introduce landscape professionals to Millenia's products.
"I have a product design and manufacturing background, so when I first met Millenia, I was impressed with the ingenuity of their remarkable SRW concept," said Mark Sawyer, president, Stone Center of Indiana. "Millenia selected unique stone textures and uses them to mold faces for their wall units that take on the look of natural stone and feel like real stone, too. Once landscape contractors understand this new system, they will appreciate its aesthetic advantages and other key characteristics: labor-saving light weight and ease of installation."
Millenia's patented Structural Cell Technology™ (SCT™) replaces conventional retaining wall blocks with lightweight units consisting of a confinement cell secured to a rigid frame. The units weigh only five pounds per square foot, compared to 60 to 100 pounds for concrete blocks. Unit-to-unit connection, with the units interlocking with superior holding power, forms solid integral walls with consistent spacing and straight lines. The structural cross ribbing of the frames adds strength and rigidity, and their beveled edges make it easier for installers to form smoothly curved walls.
Once the units are set in place and secured, weight is achieved by adding crushed stone as fill. The ingenious design of the confinement cells ensures continuous flow of fill from top to bottom to achieve strength and stability without installers having to lift and position heavy blocks or rocks. The units can also be secured to soil-reinforcing geogrids, and their contoured edges prevent damage to geosynthetic materials.
Millenia uses 100 percent recycled, pre-consumer polymeric resin materials in all its wall products. An independent Life Cycle Assessment (LCA) concluded that when used instead of concrete blocks, Millenia® polymer wall units provide a 55 percent reduction in total environmental impact, including a 65 percent reduction in greenhouse gas emissions. Based on the Leadership in Energy and Environmental Design (LEED) Green Building Rating System, developed by the U.S. Green Building Council, using Millenia® walls units can qualify for up to eight LEED credit points. Millenia® wall units have been selected for listing in the GreenSpec Directory*. Building industry professionals rely on GreenSpec as the most trustworthy source of authoritative information on the top 5-10 percent of the most environmentally positive alternatives among all green construction products.
"LEED credits are a strong selling point for Millenia," said Sawyer. "At Stone Center of Indiana, Millenia® retaining walls are the start of a growing line of green products and materials for sustainable development and green building projects."
About Stone Center of Indiana
Established in 1969, Stone Center of Indiana (http://www.estonecenter.com) is the one-stop, full-service source of the state's most extensive selection of stone and manmade materials for architectural and landscape applications. Our stone yard and showroom in Indianapolis provide the perfect setting for landscape contractors to select the perfect materials for their projects. Call 1.800.300.3197, ext. 17 for information on the events at Stone Center on October 15 and 16 when the Millenia® system will be introduced to landscape professionals.
About Millenia Wall Solutions
Headquartered in Minneapolis, Minn., Millenia Wall Solutions (http://www.milleniawalls.com) is setting the 21st century standard for the construction of segmental retaining walls by advancing the most significant innovation in the industry since the 1980s. Millenia has introduced an inventive, high-tech alternative to conventional building materials. Millenia is a member of the U.S. Green Building Council and GreenSpec-listed. Our retaining walls are eco-friendly and offer incomparable beauty, strength, stability and durability - achieved with lightweight, recycled polymeric resin materials that contractors can install easily, quickly and with less labor. The Weight is Over™. Ready to Build Intelligently®? Check out Millenia on our Web site. Then give us a call at 1.866.549.WALLS (9255).
Millenia will exhibit its retaining wall system at the Greenbuild International Conference & Expo (booth #1769), November 19-21, 2008, Boston Convention & Exhibition Center, Boston, Mass. and at Hardscapes North American (booth #932), January 16-17, 2009, Cobb Galleria Center, Atlanta, Ga.
*GreenSpec is a trademark of Building Green, LLC
###