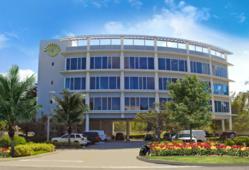 "Millennia Atlantic University now has one of the newest, most impressive educational facilities in Miami-Dade County to better serve our students," said President Maza.
Doral, FL (PRWEB) July 22, 2012
Millennia Atlantic University (MAU), founded in 2005, has called a modest 8,000 sq. ft. ground-floor space situated in a strip mall home since 2007. The university has relocated to an impressive 11,000 sq. ft. facility, and occupies three of the four floors at 3801 NW 97th Avenue in Doral.
On Friday, July 27, 2012 from 6:00pm to 9:00pm MAU will host current and future students, faculty members, business leaders, the media, and city officials for its grand opening event. The event will include a ribbon cutting and dedication ceremony. Following the presentation, guests will be treated to a reception, and tours of the campus given by university president, Aristides Maza-Duerto, PhD, students, and staff.
"Millennia Atlantic University continues to grow," said Aristides Maza-Duerto, president of MAU, "This building serves as a long term commitment to the success of our students, and the Doral community. We now have one of the newest, most impressive educational facilities in Miami-Dade County."
The new facility underwent an extensive eight-month interior renovation project, lead by Moss Architecture + Design Group, to meet LEED certification green energy efficiency standards set by the U.S. Green Building Council (USGBG). In addition to these improvements other interior design aspects include:

12 classrooms each equipped with Smartboard technology (nine more than the previous location)
Free wireless internet access throughout the building
A more spacious library and student lounge with an outdoor terrace
Onsite parking and convenient charging stations throughout the corridors for electronic devices such as cell phones and laptop computers
Motion sensitive lighting, proprietary in-office cooling units, and water conserving bathrooms to conserve energy
During 2010, MAU was granted accreditation by the Accrediting Council for Independent Schools and Colleges (ACICS) to award associate's, bachelor's, and master's degrees. In 2011 the university was authorized by the Federal government to offer financial aid Title IV funding to those who qualify and designated a member of Yellow Ribbon Program by the Department of Veterans Affairs. The University's new facility is adjacent to the U.S. Southern Command.
High resolution images available upon request.
About Millennia Atlantic University
Founded in 2005 and based in Doral, FL, a western suburb of Miami, Millennia Atlantic University (MAU) is accredited by the ACICS to grant associate's, bachelor's, and master's degrees. MAU currently offers business management programs in administrative management, human resources, paralegal, health information, and more. The MBA Degree Program is also offered online. Financial aid is available for those who qualify, and small classrooms provide an average of 12:1 student to faculty ratio. For more information about the University and new academic programs, please visit http://www.maufl.edu, or follow MAU on Twitter @MAU_FL.
# # #