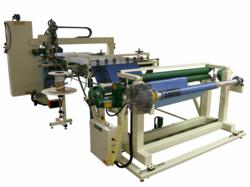 This new welding machine increases production efficiency and reduces overall costs" said Laura Teter, National Sales Manager for Miller Weldmaster, "the automation of the welder ensures a perfect weld every time.
Navarre, OH (PRWEB) April 25, 2011
Miller Weldmaster added a new pool liner beading welder to its line of automated welding machines. The unique design welds a swimming pool liner, the top decorative panel and the bead all in one operation.
The welder requires only one operator and can weld up to 50 feet per minute. The 116 provides the capability of attaching bead – one liner at a time or welding the entire roll. This gives the liner manufacturer the flexibility to produce short runs or high volume, long runs.
Miller Weldmaster works directly with the customer to create automated welding solutions to suit their specific needs. Welders can be developed to control material handling before and after the welding process. The company's welders can weld pool liner material and the much heavier material used for swimming pool covers.
For more information please visit http://www.weldmaster.com
###