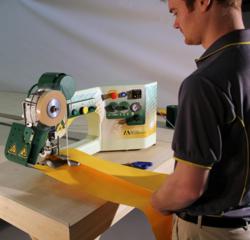 "The T3 welder was built specifically for the smaller sign and awning shops", said Jeff Sponseller, EVP Miller Weldmaster, "it will help the small business owner reduce their costs with the efficiency and dependability of welded seams."
Navarre, OH (PRWEB) April 27, 2011
Miller Weldmaster introduced the T3 Hot Wedge Welder made especially for smaller sign and banner and awning shops. This new hot wedge welder is full of features. The new T3 can weld hems, overlaps, pockets and rope in hem seams.
The T3 is compact enough to fit on a table and can also travel on a track for welding larger banners and awnings. Easy to operate controls are mounted on the front of the machine. Start/stop is controlled on the front of the machine or by a foot pedal for table-top operation.
The T3 can weld PVC, mesh, PE and other industrial fabrics. Welding speeds up to 10m/min can be achieved.
Miller Weldmaster will introduce the T3 at the ISA show in Las Vegas in April.
For more information please visit http://www.weldmaster.com.
# # #