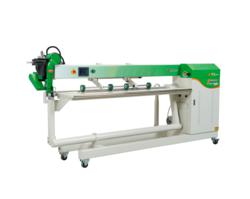 The most important issue is meeting the customer's needs.
Navarre, OH (PRWEB) November 30, 2012
Miller Weldmaster is excited to announce a new addition to its extreme seam line of hot air, hot wedge and impulse welding machines. The T-600 Extreme combines versatility and accurately controlled operating parameters for easy operation, speed, accuracy and productivity.
The T-600 Extreme showcases many innovative components. It accommodates production of large products, accepting fabrics up to 2M (81") wide to travel through its throat without folding for easy material maneuvering. It features a touch screen complemented by 25 memory settings with quick, repeatable, precision head adjustments. It has independently controlled weld rollers that assist in the production of a wide range of products and materials. It also features a table arm that takes care of straight seams as well as a curved arm that manages unique shapes.
Al Miller, Founder of Miller Weldmaster, once stated, "The most important issue is meeting the customer's needs." To accommodate each production demand, the T-600 Extreme is available in five pre-packaged bundles for finishing awnings and marine cover applications, inflatable and curved products, as well as tents, tarpaulins and other products.
About Miller Weldmaster
Miller Weldmaster, the first choice globally of all industrial fabric welding solutions, has offered rotary hot air, hot wedge and impulse welding equipment to the industrial fabric and thermoplastics industries for forty years. For the fabrication and automation of various products from awnings to truck tarpaulins, to flexible air ducting, Miller Weldmaster has developed many of the first advancements in heat sealing technology. The company's historical record of industrial "firsts" demonstrates its ability to research, design and build solutions using the most current and innovative features of the industry. Having sold machines in over 100 nations around the world, and with distributors in 20 countries, Miller Weldmaster Corporation is a leading international manufacturer and provider of solutions for plastic welding machines with a commitment to customer satisfaction. The company is headquartered in Navarre, Ohio, USA.