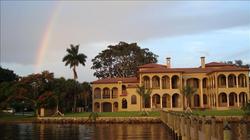 After conducting some research, we could not find that a million dollar coupon had been used in real estate before; we thought it was creative and knew it was time to do something really innovative
Fort Myers, FL (PRWEB) June 1, 2009
Coupon clippers take note. A Fort Myers couple motivated to sell their $10 million Florida waterfront estate is offering the ultimate coupon. It's value? $1 million.
Rich Ricciani, a real estate investor and developer, and his wife Linda, began designing their dream home about 10 years ago as an "Italianate" collage of the many houses they had fallen in love with and taken pictures of on their frequent trips to Italy.
About 5 years ago, in the middle of the real estate boom, they began construction. The Riccianis designed the home to be a $10 million family estate. It took more than three years to build with all the custom features they selected.
Then their plans changed, and they decided to sell the home. Unfortunately, the housing market in Florida was still adjusting downward, so they asked their Realtor to offer it for sale on the MLS for $7 million.
After trying to sell the home for a while the traditional way, the Riccianis thought it was time to try something more "out of the box," so they worked with their Realtor to create an advertisement with a $1 million real estate coupon good toward the purchase of the home. That lowered the price of the home from $7 million to $6 million. The Riccianis are betting most people have never seen a coupon for $1 million.
The owners hope the creative idea of a placing a national ad with a $1 million dollar coupon will attract a buyer for the home. "After conducting some research, we could not find that a million dollar coupon had been used in real estate before; we thought it was creative and knew it was time to do something really innovative," Rich Ricciani said.
The owners and their Realtor bought space for the coupon in The Wall Street Journal, a handful of Florida newspapers and several out of state newspapers. They also designed a website to promote the idea of the coupon.
"The home is truly a masterpiece," Rich Ricciani says. "We built it to be enjoyed for generations."
To see what the $1 million coupon and the house look like, visit http://www.themilliondollarcoupon.com.
###