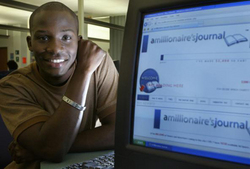 Supporting bright young people like Jerry Mathurin is how TeleLakay TV demonstrates its commitment to a brighter Haitian & Caribbean community
Lake Worth, FL (PRWEB) May 20, 2008
A 24-year-old entrepreneur is hoping to help his single mother out of poverty - and become a millionaire in the process - by selling ad space on his website journal. Determined to help support his mother who recently came out of surgery and was unable to work her 60-hour week job, Jerry Mathurin came up with the idea to create an evolving eBook and place company ads on his website starting at $100 for a minimum of two years.
Instead of most millionaire autobiographies that document accomplishments post achievement, Mathurin thought people would enjoy seeing firsthand the process of attaining a dream. Mathurin is currently majoring in Computer Programming at Palm Beach Community College while working part time as a Computer Tutor Specialist.
Readers of Mathurin's 'dorm room to riches' story will not only witness the struggles of a young entrepreneur trying to accomplish his dream, but will also be able to track his progress as new advertising spots are filled. "It's only the infancy of this site, but we are catching the eye of advertisers and our growth looks to be infectious," added Mathurin. When Mathurin attains his million dollar goal he will donate 10 percent of his earnings to ten diverse charities and over $10,000 to his top ten visitors throughout the world.
Jerry has already made over $3,200, and is calling out for advertisers all around the world to join what he describes as a revolution. He believes that his website will be part of history and those who join him will benefit through his exposure. "The ads start at $100 for a 60 X 60 ad space, companies should take advantage of this before its too late," Mathurin adds.
Fritz Valdeus, the owner of Hanetball, a flourishing new sport combining teamwork and an intense cardiovascular workout, also trusts that Mathurin is on the path to success. "I chose to advertise on his site not only because it's a great idea and we are inspired by Jerry, but that it will reach an important audience who will fall in love with our unique sport," said Valdeus.
"Supporting bright young people like Jerry Mathurin is how TeleLakay TV demonstrates its commitment to a brighter Haitian & Caribbean community," said James Toussaint, Marketing Director of TeleLakay TV, an online television program in Palm Beach County targeting people from the Islands.
Be part of or find more about Jerry Mathurin's new revolution at http://www.amillionairesjournal.com.
Contact:
Jerry Mathurin
A Millionaire's Journal LLC
1(561)512-5871
press @ amillionairesjournal.com
###