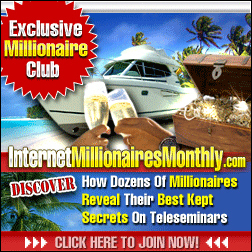 This is as close as anyone can get to a modern-day version of 'Think and Grow Rich'
(PRWEB) March 19, 2007
Internet Millionaires Monthly is an exclusive membership club that will provide a unique opportunity to actually hang out with the rich and successful, model their mindsets, and see what they're doing right. "Our goal is to enter the millionaire mind and uncover ridiculously easy ways for people to make millions, without any special skills, experience, or even money to get started," says Steve Tan, company spokesman.
In addition to teleseminar access, entrepreneurs who join the exclusive club will receive nearly $1,500 in resellable bonus products and a valuable information-packed newsletter.
Over 5,000 members have already rushed to join within the first eleven weeks of the pre-launch.
A small sample of guests committed to sharing their secrets to entrepreneurs includes:
· The inventor of the "George Foreman Grill", who will reveal how he started with a very simple idea and went from ground zero to selling 20 million units.
· the designer of the EPCOT Center, who will share the inside track on Disney's marketing secrets
· the hugely successful marketer of Blue Blocker sunglasses,
· the billion-dollar top-salesman from QVC
· a former dead-broke gym instructor from Tampa, Florida who now makes over $10,000 a day from home on the internet (starting from scratch)..with no staff, no overhead, and no office...selling products he creates in one afternoon, and
· a self-confessed "lazy bum" from Georgia finds untapped "goldmine" markets with virtually no competition...gets other people to create best-selling products for him (dirt-cheap)... and then sells them like hotcakes with simple, ugly little one-page websites...
Tan is quick to point out that, while many entrepreneurs think it is impossible for them personally to make a million dollars, many self-made millionaires started out totally broke, with no formal education or even connections.
"These people were not born into money," says Tan. "They simply uncovered some invaluable strategies and shortcuts that helped them get to the top."
These unique teleminars are the brainchild of some of the world's best, big-time marketing geniuses, who believe there are easier ways to make a million dollars than willing the lottery.
"This is as close as anyone can get to a modern-day version of 'Think and Grow Rich'," says Tan, referring to the 1920's classic by Napoleon Hill. Hill was commissioned by steel titan Andrew Carnegie to uncover the secrets of the millionaire mind.
"The world has changed immensely since the days of Carnegie," says Tan. "We want to put entrepreneurs on the cutting edge, paving their way to success in the many online business opportunities out there today. Many of the best-kept ecrets are jealously guarded. These seminars are a chance for the millionaires involved to give back to the world, by helping others to understand what it takes to make a millionaire mind."
Tan's goal is to create as many internet millionaires as possible, and he believes the upcoming teleminars the best way to help a significant number of people start off with a solid foundation.
"We are very excited to be offering these teleseminars, which are as close as you can get to a mentoring program with many of these very successful people. The calls will be based around real world examples of business models, with plenty of tips and strategies that come only from proven success," Tan said.
Entrepreneurs who wish to read more about these breakthrough insights from the millionaire mind, many of which are so cutting edge they haven't been available until now, please visit: http://www.internetmillionairesmonthly.com
###