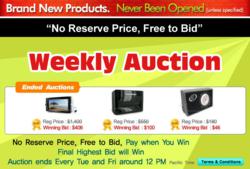 Not only can customers bid for free, but they can also start bidding at a lower price...
Los Angeles, CA (PRWEB) July 14, 2011
MillionBuy.Com recently introduced a new starting bid price of $0.99 for all auctions. MillionBuy.Com is an auction website geared toward selling car audio systems, automotive parts & accessories, home electronics, communication equipment, and video as well as accessories that accompany each electronic piece. This is not a pay-to-bid site where bidders must purchase bids. This is totally 'free' to bid where no bid purchase necessary.
Not only can customers bid for free, but they can also start bidding at a lower price. They started this $0.99 auctions since last year and they already sold many items under market price. For example, Apple iPod Touch 32GB 4th Generation was sold around $200 which was less than $100 compared to the market price. Also, they sell high tech home electronics like electronic bidet. This electronic bidet is selling well over $800 in the market and this bidet auction starts also at $0.99 without a reserve price. They are also selling many car audio video items like amplifiers, subwoofers, speakers, and in-dash DVD players at $0.99 starting price.
What is the purpose of this $0.99 auction? Daniel Kim, owner of this auction site, said that, "It is another way of saying 'Thank you' to our 500,000 customers for 12 years". Even though most of auction items are sold under the cost, MillionBuy.Com is promoting these weekly auctions to give more savings and fun to its repeating buyers.
MillionBuy.Com sells car audio and video products at wholesale price to public for more than 12 years. It has also committed to providing customers with a human touch. If a consumer does not feel comfortable placing an order online, MillionBuy.Com welcomes customers to call toll free and speak to a professional that will help place the order at no additional cost.
If customers are not satisfied with their product, MillionBuy.Com has a return/exchange policy that stands up against any consumer electronic dealer on the Internet. MillionBuy.Com will refund or exchange any unopened purchases.
About Millionbuy.com:
MillionBuy.Com is a virtual consumer electronic store with more than 12 years experience in e-commerce. At MillionBuy.Com customers will deal with the Internet's greatest professionals. Consumers are offered the lowest prices, unsurpassed service, and the fastest shipping the Internet has to offer. MillionBuy.Com has a branch called PhiConnect.com, a company specializing in full enterprise e-commerce solutions for eBay and Amazon sellers with high sales volume. PhiConnect Solution is developed by eBay Titanium Power Seller with 12 years of e-commerce selling experience. PhiConnect is trying to help the volume of sellers build a better and more complete e-commerce site. PhiConnect Premium Solution can help process orders, control inventory for all eBay, Amazon sites and increase sales.
For more information on MillionBuy.Com please call at 1-866-MILL-BUY or visit our website at http://www.millionbuy.com/.
Contact Information:
Daniel Kim
213-923-8990
danielk(at)millionbuy(dot)com
###