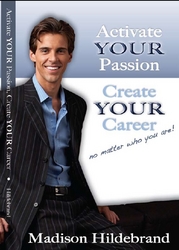 Activate Your Passion, Create Your Career.
Malibu, CA (PRWEB) August 24, 2008
"King of Malibu", Coldwell Banker's consecutive top 2% real estate agent, book author, star of Bravo's "Million Dollar Listing" and dedicated volunteer are just some of the titles that Madison Hildebrand has earned. August sees the release of his first book, a witty how-to on success in both business and personal affairs entitled "Activate Your Passion, Create Your Career."
As a class of 2003 Pepperdine University graduate with a Bachelors' Degree in Advertising, Hildebrand used his marketing and business acumen to secure a California real estate license, following a mentorship with one of the nation's top producing agents. In 2006, Hildebrand joined Coldwell Banker's Malibu West office, was Rookie of the Year and quickly rose to the top levels, ranking among the top ten Malibu West agents since joining the firm. Selling over $90 million dollars is no easy feat, as any veteran will attest, but Hildebrand's unique creativity, his stellar success in sales, the genuine client concern and his leadership in the community landed him a spot in REALTOR Magazine's "30 Under 30" June 2008 issue.
When Madison Hildebrand isn't out selling, writing, or volunteering to clean Malibu's beaches, he can be seen on the second season of Bravo's hit reality series "Million Dollar Listing" airing on Tuesdays at 10 PM ET/PT. The show follows three of Real Estate's hottest brokers and gives viewers a behind the scenes look at the cutthroat world of high-end real estate. The young and aggressive real estate agents pave their way to the top, selling exclusive properties in Hollywood, Beverly Hills and Malibu.
A remarkable businessman with the ability to build and maintain strong relationships with both clients and mentors, Hildebrand attributes his own success to hard work and steadfast integrity. With Activate Your Passion, Create Your Career, he imparts his skill set and hard earned knowledge to his readers, guiding them along the path to success and achievement with a straightforward campaign of five basic principles. He stresses listening, communication skills and a positive attitude as just a few important factors in building a strong foundation to jumpstart a fulfilling career.
For more information on Madison Hildebrand, click below:
http://extratv.warnerbros.com/2008/07/luxaholic_living_at_affordable.php
http://www.bravotv.com/Million_Dollar_Listing/season/2/index.php
###