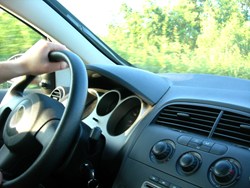 there are still an estimated 1.2m vehicles on Britain's roads being driven without cover
(PRWEB UK) 28 August 2012
The UK has approximately 34 million motorists on its roads and figures released today confirmed that of that total 1 million of those vehicles are uninsured.
West Midlands police conducted the seizure yesterday, at the same time that the Motor Insurers' Bureau (MIB) publicised that Bordesley in Birmingham has the highest volume of uninsured drivers. Bordesley, 2 miles south east of Birmingham city centre has eight times more drivers without car insurance cover than the average across the rest of the country.
The AA confirms that since 2005, when the police were given the power to stop vehicles being driven without insurance, an average of 500 are being apprehended every day. The AA would like to see the Government introduce more stringent punishments for uninsured drivers as well as custodial sentences for repeat offenders.
Simon Douglas of AA Insurance said: "A million cars seized is great news, yet there are still an estimated 1.2m vehicles on Britain's roads being driven without cover – that's around 1 out of every 25."
He added: "Every year, uninsured drivers kill 160 and injure 23,000 innocent people. What's more, the cost of the work carried out by the MIB adds around £33 to every honestly-bought car insurance policy. It is not a victimless crime."
Further research conducted by the MIB amongst communities in the West Midlands and West Yorkshire in July 2012 found that a third of people do not understand the current laws on car insurance.
Andrew Goulborn, Commercial Director of car insurance comparison site Tiger.co.uk, commented: "It is good to see that the police have seized more than a million uninsured vehicles, however more needs to be done to eradicate this completely from UK roads. It is a serious problem as it not only pushes up insurance premiums for law abiding drivers but uninsured drivers are disproportionately responsible for more road accidents and resulting injuries and fatalities. We work hard to offer our customers the best car insurance quotes we possibly can, but uninsured drivers inflate costs for all other drivers."
About http://www.tiger.co.uk:
Tiger.co.uk is a trading name of Call Connection Ltd. Tiger.co.uk is a UK based, independent car insurance comparison site, offering insurance quotes from over 150 motor insurance brands. Call Connection Ltd is authorised and regulated by the Financial Services Authority (number 308374).
News Attribution - http://www.guardian.co.uk/money/2012/aug/21/millionth-uninsured-vehicle-seized