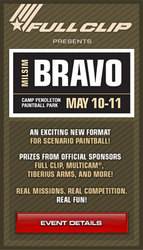 Los Angeles / Camp Pendleton, CA (PRWEB) May 5, 2008
Full Clip presents the MILSIM Games: Bravo, the second event in a series of paintball competitions sponsored by Bioval Technologies, Tiberius Arms, MultiCam by Crye Precision, Full Clip USA, Steel Flame and Primelink Sports International. The MILSIM Games is a new paintball format, developed by seasoned paintball pros and training experts, which demonstrates Paintball's flexibility with training and recreational play and embraces a variety of competitive styles. Whether you are an individual player or part of a military squad, beginner or advanced, the MILSIM format is sure to challenge its participants both mentally and physically.
Special guests will include Russell Marta, Principal Tactics/Firearms Instructor for the California L/E Agency and 10 Year SWAT Instructor, and game-based learning expert and MILSIM mission creator Chris Clark.
MILSIM: BRAVO will feature the following competitive divisions: Sniper School sponsored by Steel Flame, Big Game sponsored by Splat Ops®, Time Trials sponsored by Tiberius Arms®, Rescue Mission sponsored by MULTICAM®, and Face Off sponsored by Full Clip USA. Personal and team times / scores will be added to our database and posted on the MILSIM Games MySpace page for each event.
Whether you're a lone sniper or a member of a fire team, you will want to be a part of the fun this weekend at Camp Pendleton Paintball Park in Camp Pendleton, CA. And don't forget this weekend is Mother's Day so all Moms get free admission to MILSIM GAMES: Bravo.
MILSIM GAMES: Alpha RECAP
The MILSIM GAMES: Alpha in Davis, CA attracted some big names in the paintball industry including MILSIM winner Greg Hastings, Micah McGlocklin, Tony Tran as well as members of Regime, Bushwackers, Jersey Authority, Able Company, Ninjas, Splat Factory, and the LA Hitmen.
MILSIM: Alpha Results for Best Individual Time:
1. Greg Hastings (Jersey Authority) 23.49 sec
2. Ryan Podesta (Regime) 24.25 sec
3. M. Martin (Bushwackers) 26.24 sec
MILSIM: Alpha Results for Best Combined Time:
1. Greg Hastings (Jersey Authority)
2. Ryan Podesta (Regime)
3. M. Loutzenhiser (Solo Assassins)
MILSIM GAMES: BRAVO is Presented by: Full Clip USA, Tiberius Arms, BIOVAL Technologies, MULTICAM by Crye Precision, Guerilla Air, GenXGlobal, CCM, PMP, paintballphotography.com, Splat Magazine, Jungle Magazine, scenarioscource.com. PBLive, Steel Flame, New Life Fitness, CS Paintball and Paintball Sports.
CPPaintball Park is located between Los Angeles and San Diego. http://www.cppaintball.com
Real Missions, Real Competition, Real Fun. MILSIM Games.
MILSIM GAMES®, REPRESENT PR®, BIOVAL TECHNOLOGIES®, TIBERIUS ARMS®, FULL CLIP USA®, MULTICAM®, STEEL FLAME® and LA HITMEN® are all registered trademarks.
For more information regarding any of the companies participating in MILSIM GAMES : BRAVO, please visit their websites:
Full Clip USA
http://www.fullclipusa.com
Bioval Technologies
http://www.bioval.net
Tiberius Arms
http://www.tiberiusarms.com
Multicam by Crye Precision
http://www.multicampattern.com
Steel Flame
http://www.steelflame.com
LA Hitmen
http://www.lahitmen.com
Camp Pendleton Paintball Park
http://www.cppaintball.com
Primelink Sports International
http://www.primelinkonline.com
###