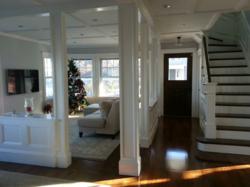 Boston, MA (PRWEB) May 21, 2013
Experienced contractors offer a variety of skills that can broaden the scope of work they can offer their customers, and increase the proficiency with which the work is performed. G&J Construction has two very different home remodeling jobs that demonstrate their diverse renovation expertise to homeowners in the Boston area.
Homeowners in Cambridge sought out G&J Construction to convert a two-family home into a one-family home. The conversion required structural work as well as the removal of walls to create an open concept floor plan. In order to preserve the home's structural integrity, beams and supports were installed. "The entrance was reconfigured and a new foyer and entryway was created, to eliminate a dual entry," said William Berardi, owner of G&J Construction.
Salvaging the front door, G&J Construction refurbished the original wood and glass entry door to create an updated yet classic look. Window openings were created and windows were replaced, adding natural light and providing better energy efficiency. The reconfigured stairway was constructed in dark wood, creating a stunning contrast to the white finish carpentry which included trim and wall moldings. Cased beams and a built-in bookcase completed the look in living room, providing additional character and detail.
G&J Construction is currently finishing two bathroom remodeling jobs on the 11th floor of a high-rise condo building downtown in the Back Bay Boston area. "We have an on-going relationship with these homeowners," said William. "12 years ago, we remodeled their bathrooms before they moved into the unit and now they are ready to make some cosmetic changes."
G&J Construction is working on two high-end contemporary bathroom remodels for "His" and "Her" bathrooms. The bathroom renovations include installing new tiles, fixtures, new flooring, lighting, paint and retiling the shower. "Her" bathroom has a more feminine design aesthetic with the addition of a soaking tub, while the "His" bathroom has a more masculine style with a stand up shower. The remodeled bathrooms give G&J Construction the opportunity to please both homeowners with the bathrooms of their dreams.
For more information on this company please call (617) 719-6694 or check out their website, http://www.topbostonconstruction.com.
About G&J Construction
G & J Construction is a second generation family owned business which has been specializing in residential and light commercial construction for over 50 years. All projects are managed by the principal owner, William Berardi, whose direct involvement and attention to detail has resulted in unparalleled customer satisfaction. Their subcontractors are experts in their trades and have been working with them for an average of ten years. Services include: new construction, remodeling, roofing, carpentry, installation of hardwood floors, windows, siding, decks and fencing. Their continued success is in large part due their repeat customer base including architects, decorators and interior designers. G & J Construction is fully licensed and insured and they offer a warranty for all services. They serve the greater Boston area.