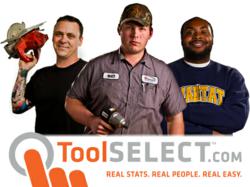 In today's turbulent market, plumbers and mechanical contractors must look to time- and cost-saving solutions like press to deliver significant productivity and profitability enhancements
Grand Rapids, MI (PRWEB) August 30, 2012
The ToolSelect community is itching to get their hands on the newest Milwaukee cordless tools. The Force Logic™ press tool line, which features both M18™ and M12™ tools, is designed as an ergonomic solution for navigating among installed pipes along with a high level of press accuracy.
With Milwaukee Redlink™ electronics, Force Logic™ press tools visually indicate a secure connection to give confidence to users, and also visually indicate when the tool needs to be calibrated. The M18™ tools require service every 40,000 cycles (32,000 cycles for M12™ tools), giving users more time using the tools and less time calibrating them.
"In today's turbulent market, plumbers and mechanical contractors must look to time- and cost-saving solutions like press to deliver significant productivity and profitability enhancements," says Corey Dickert, senior product manager, cordless with Milwaukee Tool. "The new Force Logic™ press tools take that mentality to the next level, delivering products that are more productive than other pressing options due to their size, weight, reliability and battery-platform compatibility."
Dickert adds, "For example, utilizing the M12™ copper-tubing cutter and the M12™ Force Logic™ press tool, a service plumber now has the ability to swap out a water heater faster than his competitors and can even drain the system for solder connections."
The press tools are powered by M12™ and M18™ REDLITHIUM™ battery technology and are compatible with full lines of product designed for professional tradesmen.
"People ask about tools for plumbing," says Tom Klein, vice president of marketing and merchandising with ToolSelect. "And obviously there are a lot out there that can be used, whether specifically built for plumbing or not. We're especially interested to see what the plumbers in our community have to say about these Force Logic™ tools, which Milwaukee says last longer and are extremely accurate."
About ToolSelect
ToolSelect is an unbiased community powered by its members that covers all aspects, types and brands of tools, but does not actually sell any tools. ToolSelect's members include everyone from experienced tradesmen to complete novices. Users trade tips, compare notes, debate their favorite tools and work together to help each other make intelligent purchasing decisions.
Like ToolSelect on Facebook (ToolSelect)
Subscribe to ToolSelect on YouTube (toolselecttv)
Follow ToolSelect on Twitter (toolselectmedia)