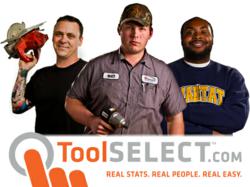 With the touch of a button, they can go from a precise application such as fastening small machine screws to an application that requires maximum performance such as driving lag screws
Grand Rapids, MI (PRWEB) April 27, 2012
Milwaukee power tools, already one of the most talked about brands of tools, is adding to the discussion on ToolSelect with the release of the new M18 FUEL™ ¼" hex impact driver, the latest tool in Milwaukee's M18 FUEL™ line.
The new 18V impact driver uses Milwaukee's exclusive combination of the POWERSTATE™ brushless motor, REDLITHIUM™ battery pack and REDLINK PLUS™ electronic intelligence. Milwaukee put these three together in an effort to generate three times longer life and 50% more run time. A proprietary three-mode DRIVE CONTROL™ feature is made to give users more control specific to each application.
"The three-mode drive control feature gives users better control over the power and speed required for specific applications," says Tom Simeone, Sr., product manager with Milwaukee. "With the touch of a button, they can go from a precise application such as fastening small machine screws to an application that requires maximum performance such as driving lag screws."
The POWERSTATE™ motor is designed, engineered and built by Milwaukee and gives up to 1,600 in-lbs of torque and 0-2,900 RPM. The motor is also designed to reduce noise and cool rapidly to create longer maintenance-free performance.
Milwaukee's three-mode DRIVE CONTROL™ lets users choose the optimum performance of the tool based on the application. Mode 1, for precision work, operates with 0-850 RPM and 200 in-lbs of torque. Mode 2 (0-2,100 RPM, 700 in-lbs of torque) helps prevent damage to fasteners and material. Mode 3 (0-2,900 RPM, 1,600 in-lbs of torque) is for the toughest applications.
"Everyone's interested in brushless 18V impact drivers," says Stephen Glaesman, CEO with ToolSelect. "We already see a lot of talk about Milwaukee power tools within our community, so we expect this addition to their FUEL™ line to generate a lot of reviews and discussion."
About ToolSelect
ToolSelect is an unbiased community powered by its members that covers all aspects, types and brands of tools, but does not actually sell any tools. ToolSelect's members include everyone from experienced tradesmen to complete novices. Users trade tips, compare notes, debate their favorite tools and work together to help each other make intelligent purchasing decisions.
Like ToolSelect on Facebook (ToolSelect)
Subscribe to ToolSelect on YouTube (toolselecttv)
Follow ToolSelect on Twitter (toolselectmedia)