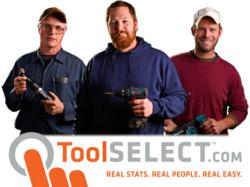 Our community is always excited to talk about a new Milwaukee tool.
Grand Rapids, MI (PRWEB) February 13, 2012
Milwaukee Tool Corporation expanded their rotary-hammer line with the new 1-9/16" SDS Max and Spline rotary hammers, which are now added to the ToolSelect community, where members can review and discuss each new hammer drill.
Each new hammer drill uses a 10.5-amp motor and 5.5 foot pounds of impact energy (full specs are available at ToolSelect.com).
"Our community is always excited to talk about a new Milwaukee tool," says Tom Klein, vice president of marketing and merchandising with ToolSelect. "Every new hammer drill is sure to drum up more interest in not just each particular tool, but the whole category."
Milwaukee Tool's new 1-9/16" rotary hammers feature two-mode operation (rotary hammer and hammer only) and use Constant Power Technology (CPT™) for consistent performance. These hammer drills are intended for electricians, plumbers, HVAC technicians, MRO professionals, mechanical and general contractors.
The launch of these tools also comes with the Milwaukee heavy-duty five-year tool/one-year service warranty.
Designed to maximize life and productivity, the 1-9/16" SDS Max and Spline Rotary Hammers express Milwaukee's commitment to expand their growing Rotary Hammer line. Milwaukee's guarantee of maximum durability is backed by the MILWAUKEE® Heavy-Duty 5-year tool/1-year service warranty.
About ToolSelect
ToolSelect is an unbiased community powered by its members that covers all aspects, types and brands of tools, but does not actually sell any tools. ToolSelect's members include everyone from experienced tradesmen to complete novices. Users trade tips, compare notes, debate their favorite tools and work together to help each other make intelligent purchasing decisions.
###