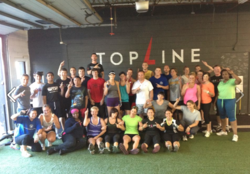 If you are ready to change your life . . . this is the place to be
Milwaukee, Wisconsin (PRWEB) August 05, 2012
Top Line Gym Milwaukee recently introduced its newest weight loss program, Lose 5 Free, via Lose5Free.com. Almost immediately, the new program went viral with several Milwaukee County residents signing up to take advantage of the gym's new offer. For its newest program, Top Line's coaches Brett Summers and Joshua Delaney are offering to train fitness seekers at no cost until they lose their first five pounds at the gym.
This newest program offers several appealing initiatives to individuals interested in finding an effective weight loss program. Strength, conditioning, and lifestyle coaches Summers and Delaney created a complete and effective fitness plan in order to help individuals get a solid start to their weight loss goals.
To Find Out More About Top Line Gym's "Lose 5 Free", Click here: http://www.Lose5Free.com
Those familiar with the gym know that Summers and Delaney encourage their members to remain on regular exercise schedules, but they also stress to their members the importance of remaining knowledgeable about fitness and making healthy lifestyle choices. Those who sign up for the program will receive literature that fully explains this pertinent fitness information.
The pair plans to train the participants using Top Line's signature, non-conventional training exercises. Unlike several health clubs that offer state-of-the-art amenities such as exercise machines, saunas and flat-screen televisions, Summers and Delaney approach their training a little differently. The pair trains members at the gym using little more than heavy ropes, old tractor tires, and a wide open space within an old warehouse. Several of the gym's members have experienced groundbreaking weight loss results using these methods.
With Top Line boasting highly successful weight loss results from several other programs that it hosts, those interested in Lose 5 Free can feel comfortable knowing that taking advantage of this promotion will be a step in the right direction to achieving their fitness goals. "If you are ready to change your life . . . this is the place to be," says gym member Michelle Senour.
About
Top Line Gym Milwaukee is a training facility that provides strength and conditioning fitness training programs. Current programs at Top Line Gym Milwaukee include Lose 5 Free, Underground Athlete Strength and Conditioning and Rapid Body Redesign. For additional information, interested parties may visit the website, like Top Line Gym on Facebook or view the gym's previous press release.
Porsche Farr
http://www.PorscheTiaPR.com