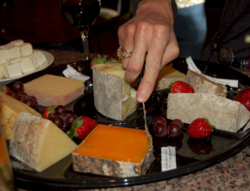 Some of the best cheese in Wisconsin!
Milwaukee, WI (PRWEB) July 24, 2012
Ever since Steve Shapson, founder of The Cheesemaker, discovered that he could make gourmet cheese on his own, he has been dedicated to showing others how simple and rewarding making homemade cheese is. "Whether you want to impress at the next social occasion with a gourmet treat, or simply want a hobby that gives you a sense of real accomplishment, cheese making is for you," says Shapson.
What has made The Cheesemaker so successful is what makes it so unique. "Cheese making books and instructions are often incomplete," says Shapson. "I wanted to create one place where you could find the simplest instructions, complete with photos, and all of the supplies you need." In fact, the one-stop-shop guarantees you will make gourmet cheese the first time you try without using any fancy equipment.
So after a few years in business and much customer interaction, a new website was in order to address the demands of the client. This website will do what Shapson already has done to homemade cheese making—simplify user experience. "Site navigation is much more user friendly," says Shapson. Cheesemaking kits and cheesemaking supplies are not only fun and easy to learn, but even easier to find and order on the new website.
The Cheesemaker not only offers kits and supplies, but cultures, presses, books and cheesemaking workshops in Mequon, Wisconsin. Shapson's Cheesemaking kits & eBook Guide guarantee you will make delicious Camembert, Brie and Blue cheeses. In addition, all products include shipping within the U.S. and are shipped the same day as ordered.
Call The Cheesemaker, Steve, for the best in personal customer service at (414) 745-5483 or visit the new website http://www.thecheesemaker.com
Released by Brew City Marketing - Web Design | Marketing | Search Engine Optimization | Press Release Distribution