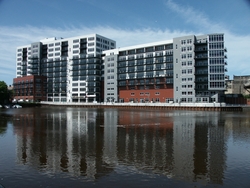 Live events have always been one of the most effective ways to build buzz and generate interest from prospective buyers for new developments such as these condos for sale
Chicago, IL (PRWEB) October 22, 2009
Homeowners and developers in the area are breathing a collective sigh of relief as the Milwaukee real estate market continues to report positive home-sales data, a trend that was supported at a recent event for luxury condos for sale in the city.
According to Metro MLS Inc., Milwaukee County recorded its sixth straight month of rising home sales in September, registering a 6.8 percent increase for September 2009 over September 2008.
Meanwhile, more than 300 guests attended a grand opening event for the recently completed penthouse condos for sale at The Point on the River, a 12-story loft-conversion at the intersection of the Milwaukee and Menomonee Rivers, and a half dozen units were sold or put under contract, according to Chicago-based sales and marketing firm, Garrison Partners, and the developer, Milwaukee-based Mandel Group.
Garry Benson, principal of Garrison Partners, said low interest rates, standing inventory and the soon-to-expire $8,000 First-Time Homebuyer Tax Credit are prompting buyers to get into the Milwaukee real estate market. And developers are finding new ways - or revisiting old ones - to attract buyers to their projects.
For Garrison Partners and Mandel Group, that meant hosting a large-scale event complete with a full-service bar, gourmet hors d'oeuvres and pop-up galleries featuring the latest in interior design trends. It was the first such event for Garrison in many months, and Benson noted that it yielded a great return on investment.
"Live events have always been one of the most effective ways to build buzz and generate interest from prospective buyers for new developments such as these condos for sale," said Benson. "There is no substitute for being able to experience the space, touch the finishes and see the views. Seeing a room packed with 300 prospective buyers was a very encouraging sign that buyer confidence is returning. It also sends a message to developers that it's time to get back in the game, to start marketing again."
The penthouse preview event was the second event at The Point on the River this year. In February, the development team hosted a grand opening for the lower floors, which also generated healthy sales activity for Milwaukee real estate, Benson noted.
A turnaround of a distressed asset, The Point on the River is a good example of how event marketing can effectively revitalize and renew interest in a project.
"By reintroducing the property to buyers in stages, we were able to continually build their confidence in the community," said Benson. "As the building's success has continued, buyers who were once on the fence about buying Milwaukee real estate are now taking action."
For more information about The Point on the River, visit http://www.thepointontheriver.com or call (414) 298-1600.
Contact:
Monica Heckman, Taylor Johnson & Olesker
312-267-4525
###