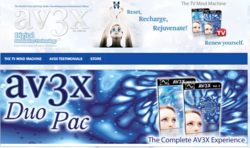 Now anyone can have a virtual mind machine at home by using the AV3X DVDs. While light and sound machines for brainwave entrainment can be quite expensive AV3X puts home brainwave entrainment and relaxation therapy within everyone's reach
Dallas, TX (PRWEB) January 08, 2013
AV3X LLC announces brainwave entrainment technology capable of altering brainwaves of viewers to be used In DVD and Bluray videos. This mind machine technology can be added to any audiovisual presentation to alter the brainwaves of viewers.
AV3X LLC has completed development on a new technology allowing for brainwave entrainment via light and sound pulses using TV and video signals. The project has been in development for over a decade as part of a high tech accelerated learning, relaxation and meditation system. This "virtual mind machine" has been adapted into an audiovisual presentation that uses the scientific principle of "The Frequency Following Response (FFR)". FFR, which was proven by scientists in the 1920's and 1930's during the development of EEG (Electroencephalography), states that the human brain will mimic controlled frequency patterns of light and sound. By providing light and sound pulses at frequencies proven to be associated with deep relaxation the AV3X "Digital Meditation" system causes viewers to relax without conscious effort.
"Now anyone can have a virtual mind machine at home by using the AV3X DVDs. While light and sound machines for brainwave entrainment can be quite expensive AV3X puts home brainwave entrainment and relaxation therapy within everyone's reach," says Christopher Oliver, inventor of the AV3X TV mind machine system.
For more information about AV3X, mind machine technology or light and sound brainwave entrainment visit their website at av3x.com.