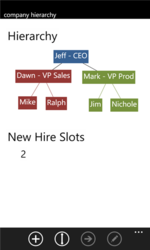 Concept Mapper is a flexible Windows Phone app for creating mind maps, lists and hierarchies.
Charlotte, NC (PRWEB) January 23, 2013
SpiveyWorks Concept Mapper app is a Windows Phone mind map app. Concept Mapper was one of the first apps to be launched on the Windows Store in 2011 and has been updated a couple of times each year with new functionality. The app gives users a flexible tool to create mind maps, lists, hierarchies and mesh structures and save that information as a single image to email or post to corporate networks. The free-form nature of the app lets users structure information quickly and how they need it. For example, users make color coded to-do lists, group related items in tag clouds when brainstorming or create mind maps of corporate hierarchies.
Until now there has only been a way to export Concept Mapper creations as an image. There was not a good way to do a complete backup of all the app's files. With the latest Concept Mapper update, available in the Windows Storage, SkyDrive integration has been added to let users select individual mind map files to copy from the phone to SkyDrive or from SkyDrive to the phone. This acts as a full backup solution as well as letting users share their mind maps with other users who can access the same SkyDrive folder. Concept Mapper stores its files as XML so once on SkyDrive any tool that can access XML data can import or dissect information inside the files.
SpiveyWorks has several YouTube videos demonstrating the different features of Concept Mapper for Windows Phone, including how to create a to-do list with your voice. Other videos demonstrate how to make an organizational chart and how to make color-coded lists. Each video runs about two minutes.
SpiveyWorks Corporation is a small business based in Charlotte, NC that designs apps to empower individuals in their daily lives on whatever device they happen to be using.
Product or service names mentioned herein are the trademarks of their respective owners.