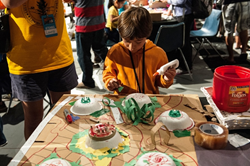 Math is all around us, and by challenging students to explore that, we hope to give them a better sense of what an exciting adventure math can be.
Irvine, Calif. (PRWEB) February 09, 2015
Students, teachers and parents embracing deeper, conceptual learning of math concepts have a unique opportunity to showcase their understanding of math standards through a national K-12 Game-a-thon. This is the second annual game-building competition sponsored by the nonprofit MIND Research Institute.
With the theme "Math Your Own Adventure," the K-12 Game-a-thon challenges students to think about the ways math is at play in adventures through time and space. Teams of two or more students can design and build a math game featuring creative and unusual solutions to mathematical problems. With the help of a teacher or parent coordinator, teams then submit and share the game via YouTube. Teams can invent card games, board games, apps, outdoor games or anything else, as long as it solves a mathematical problem ranging from counting to irrational numbers or measurement to modeling.
"We want students to take the math they learn in school and use that to create their own fun and educational games," said Matthew Peterson, Ph.D., CEO and co-founder of MIND Research Institute, and creator of the ST Math game-based educational software. "Math is all around us, and by challenging students to explore that, we hope to give them a better sense of what an exciting adventure math can be."
The Game-a-thon is open to submissions now through July 15. Entries will be evaluated by a team of educators, mathematicians and game designers who develop and facilitate the ST Math software program for 800,000 students in 40 states. The games will be evaluated based on use of math themes (40%), creative game design/material use (30%), originality (20%) and YouTube likes (10%).
Every participating team will receive a certificate of participation and a commemorative pin. Up to 25 games will be selected for special recognition and displayed at MIND's 2015 Math Fair. Five winning entries will receive a trophy featuring JiJi, the animated penguin of the ST Math games, and have their videos displayed in the Game-a-thon Hall of Fame.
To learn more about the Game-a-thon, or to download game guidelines go to http://www.mindresearch.net/gameathon.
MIND Research Institute
MIND Research Institute is a neuroscience and education social benefit organization, dedicated to ensuring that all students are mathematically equipped to solve the world's most challenging problems. MIND's distinctive visual approach to math and problem-solving is the basis of its innovative, research-proven ST Math® programs for elementary and secondary schools. The visually-based ST Math program has been shown to double or triple schools' growth rates in math proficiency. MIND's programs currently reach 800,000 students and 31,000 teachers in 2,500 schools in 40 states. For more information, visit http://www.mindresearch.org.