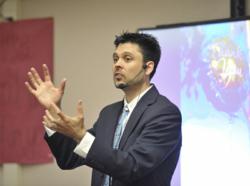 Irvine, Calif. (PRWEB) June 11, 2013
WHAT:
U.S. News STEM Solutions' session "Blended Learning, Flipped Classrooms, and Other Innovative Teaching Techniques" will feature experts including Matthew Peterson, Ph.D., co-founder of the Irvine-based education non-profit MIND Research Institute. With the national trend toward incorporating technology into the traditional school experience, Peterson will discuss what specific aspects of online education are proven to enhance student learning – such as interactive programs that encourage active learning and build deep, conceptual understanding. Peterson is a neuroscientist and creator of ST Math® instructional software that's currently used by half a million children in 30 states. His remarks will draw on lessons learned from more than 15 years building and refining his visually-based math learning program, as well as the latest scientific research evaluating teaching methods and the neuroscience of learning.
Session description: By mixing face-to-face teaching with computer-mediated instruction, teachers at the K-12 and college levels are creating more flexible learning environments, where students can progress through their lessons at their own pace and get personalized help if needed. Computer software can provide self-guided lessons and flag problems for instructors, who can then work with particular individuals or groups who need additional help. Different models of blended learning are being applied across the country. In this session, practitioners will examine the emerging results and lessons learned from the various techniques.
WHEN:
4:15-5:15 p.m., CDT, Tuesday, June 18, 2013
WHERE:
US News STEM Solutions 2013
Austin Convention Center, Room 8
500 E. Cesar Chavez
Austin, Texas
Can't attend? Follow updates on Twitter with the hashtag #STEMsolutions13 or at @MIND_Research
WHO:
Moderator: Richard T. Schoephoerster, Ph.D., P.E., Dean and Riter Professor, College of Engineering, The University of Texas at El Paso
Panelists:

About MIND Research Institute
MIND Research Institute is a neuroscience and education research-based, non-profit corporation. MIND applies its distinctive visual approach to illustrating math concepts and building problem-solving skills as the basis for innovative, research-proven math education programs for elementary and secondary schools. MIND's programs currently reach over 500,000 students and 21,000 teachers in more than 1,780 schools in 30 states. For more information, visit http://www.mindresearch.net.
About U.S. News STEM Solutions
The National Conference was created by U.S. News and World Report to foster collaboration among those working to advance the agenda for national change in STEM education, policy, and workforce development. For up-to-date information, visit http://www.USNewsSTEMSolutions.com.