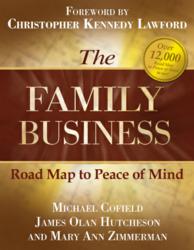 "The Family Business Road Map to Peace of Mind, is an important addition to the field of helping families achieve their financial and family goals.
This book is a gem."
Scottsdale, AZ (PRWEB) February 15, 2012
This week, a powerful book, 'The Family Business Road Map To Peace Of Mind' has been released to Amazon. "The new book reveals a road map that is scalable and beneficial to family-owned businesses of all sizes," remarks James Olan Hutcheson, Co-Author, President and Founder ReGENERATION Partners. "Often, family businesses are fertile ground for internal dissension, conflict, and stress. With this knowledge in hand, we wrote 'The Family Business Road Map To Peace Of Mind' in an effort to help family members address these challenges inside a family business context. To answer the question: Why did we select this audience for our new book? The answer is simple: family-owned businesses have, and will continue to have, a significant impact on global economies, while many have stood the test of time."
To add perspective, these 10 family-owned businesses make substantial contributions to the GDP and shape our daily lives:
1. Wal-Mart/Owned by: Walton Family Annual Revenues: $421.8 Billion
2. Ford Motor Co./Owned by: Ford Family Annual Revenues: $128.9 Billion
3. Cargil/Owned by: Cargill & MacMillan Families Annual Revenues: $107.8 Billion
4. Koch Industries/Owned by: Koch Family Annual Revenues: $100 Billion
5. Carlson Companies/Owned by: Carlson Family Annual Revenues: $38 Billion
6. Comcast/Owned by: Roberts Family Annual Revenues: $37.9 Billion
7. News Corp./Owned by: Murdoch Family with estimated annual revenues of $33.4 Billion
8. HCA Holdings/Owned by: Frist Family with estimated annual revenues of $31.5 Billion
9. Bechtel Group/Owned by: Bechtel Family with estimated annual revenues of $30.8 Billion
10. Mars/Owned by: Mars Family with estimated annual revenues of $30 Billion
Enduring Success: representing the Top 10 family businesses in U.S. for 2011, generating $1 trillion in revenue++.
"Further, 1/3 of all companies in the S&P 500 index are family businesses," adds, Mary Ann Zimmerman, Co-Author, MC, LPC, LISAC, and Managing Director of Mindability. "But what happens if the company hits a bump in the road? Or, if succession planning issues and arguments surface? With less than 30 percent of family businesses surviving into the 3rd generation, this could devastate a company unless they adapt tools and guidance from trusted experts."
Given these generational odds, is it possible for these businesses to find a path to success? If so, where can family business owners turn to avoid high drama and get answers to tough questions? "The topic of self-help is critical for everyone, but even more so for members in a family business where the potential for conflict looms under the surface," states François M. de Visscher, Founder of De Visscher & Company LLC. "The Family Business Road Map to Peace of Mind, is an important addition to the field of helping families achieve their financial and family goals. This book is a gem."
About Mindability
The award-winning Mindability Group (Mindability), based in Scottsdale, Arizona, first introduced the concept of systematic and successful interventions for behavioral health conditions with its flagship publication 'Integrated Cognitive Restructuring' in 1995. Mindability's portfolio now includes both in-person, online self-coaching, psycho-educational programs for stress management, depression, generalized anxiety, psychophysiologic conditions, pre-employment psychological screenings, emotional intelligence, risk assessments, and other behavioral challenges facing our clients today.
Built on forty-five years of industry experience, Mindability's award winning leaders and advisory board members have been featured and published in several industry/media platforms and books including: ABC, Business Week, International Herald Tribune, The Huffington Post, various Business Journals, titles such as: 'The Family Business Shareholder's Handbook', international award-winning 'The Simplified Handbook For Living With Heart Disease', and other global publications. Most recently, Mindability leaders have co-authored 'The Family Business Road Map To Peace Of Mind' with James Olan Hutcheson, President of ReGeneration Partners and has been published by Tonic Press in the winter of 2011. In addition to authoring custom clinical guides in both English and Spanish, Mindability remains committed to the goal of teaching people how to identify behavioral health issues and specific processes to access help for themselves or a loved one. To learn more about the Mindability Group, their educational programs, and resources please visit their website at: http://www.mindability.com
About ReGENERATION Partners
ReGENERATION Partners is a recognized, global family business consulting firm with headquarters in Dallas, Texas. The firm's mission is to increase shareholder wealth and improve communication and leadership for sustainable growth. Through a rare combination of academic training and firsthand, senior-level family business management and leadership experience, the team of professionals helps their clients address critical issues before they become problems – ensuring consistent growth and prosperity from one generation to the next.
In short, they've been in your shoes. And they've succeeded. So they know what works and what doesn't. And unlike traditional business consultants who traditionally help with selected aspects of family-owned business, they deal with the interrelated systems of both the family and the business. As a result, they see the big picture. And their clients see big growth. For more details regarding ReGENERATION Partners winning approaches, please visit their website at: http://www.regeneration-partners.com
Business Note: Companies interested in bulk purchases or exploring opportunities involving the book series should contact the Mindability Group here or via telephone at: 602.867.6070
Press Copies: Advanced readers copies of the book are available to the press upon request. Please send an email to the Mindability Group here or contact via telephone at: 602.867.6070
++ Revenue details: collective from 2011 company reporting, Fortune 500 ranking 2011, & family business magazine.
CONTACT INFORMATION:
Mary Ann Zimmerman, Managing Director
The Mindability Group
V: 602.867.6070
Website: http://www.mindability.com
Kelly A. Isley, Partner
Corcoran Associates
Business Advisors & Public Relations
V: 480.814.7471
Website: http://www.corcoranassoc.biz
Note: The names of actual companies and products mentioned herein may be the trademarks of their respective owners.
##