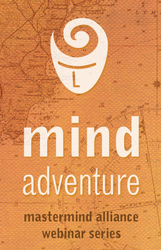 Being Prosperous in Tough Times Doesn't Happen by Chance or Luck.
Jamaica Plain, MA (Vocus) October 13, 2010
Founder of Mind Adventure, Philosopher and author of 180, rob white, will be hosting a powerful Mastermind Alliance webinar. This is an opportunity for the mingling of like-kind minds with one definite aim: to help unlock the incredible potential that lies unrealized in the subconscious level of your mind. What happens when this happens? Your life experiences escalate from ordinary to extraordinary.
This transformational webinar opportunity is free; all you need to give is your heartfelt interest in feeling fully alive in all aspects of your life.
For years rob hosted weekly Mastermind Alliance meetings with folks from all walks of life: Dentists, Doctors, Artists, Poets, rock stars and bricklayers. These mingling minds would inquire into the nature of being 'a human being with superlatively creative capacities' (which is what we all are). rob is back and ready to resurrect these invigorating and profound sessions. It is an astonishing mind adventure.
The subject of the first Mastermind Alliance will be: "Being Prosperous in Tough Times Doesn't Happen by Chance or Luck." Beginning Thursday, October 14 2010 8pm EST.
Inquiring minds can sign up here. Participants will be invited to listen in and submit questions and comments. This life transforming Webinar promises to be enlightening as well as empowering ... and a lot of fun.
rob is a clear example of what any human being can do when possessing a wonderful obsession and clear vision. He will explain all of it to you. When you've completed this mind adventure, you will no longer fall victim to your own mental carelessness.
What is a Mastermind Alliance?
Napoleon Hill, author of Think and Grow Rich, first defined the mastermind as a "coordination of knowledge and effort, in a spirit of harmony, between two or more people, for the attainment of a definite purpose." Alliances of like-kind minds have been around since the beginning of human kind – it is what has taken us out of the caves, living with screeching bats and placed us in cozy brick homes, and soaring in the sky with eagles.
The building blocks of a successful 'alliance of minds' requires awareness, a shift in consciousness and a passion for fully participating in life. This webinar will offer you a complete tool kit of simple methods to awaken your awareness, to shift your consciousness, and to boost your passion for living with that little extra something required to elevate your life into the 'extra'ordinary zone.
Most recently, Jack Canfield, author of "The Success Principles" and co-author of the "Chicken Soup for the Soul: 101 Stories to Open the Heart and Rekindle the Spirit", has also been an avid advocate of the Mastermind Group principle. He describes it as "one of the most powerful tools ever used by successful people." A bold statement indeed, but one that is backed by many living examples of highly successful and influential people like John Assaraf, Anthony Robbins, and Mark Victor Hansen, to name just a few.
Who is rob white?
rob white has spent over 30 years studying and testing myriad methods and tools for success. He has honed and developed the methods into a very powerful success system of his own, which he offers in his book 180. Having started with being $50,000 in debt at age 30, rob is now financially independent with homes and successful businesses on the East and West Coast. You can learn the simple steps he took by taking the 90-Day Program found in his book, 180... and... you can begin making profound changes in your life right now by engaging in this webinar series.
This Webinar is open on a first come first serve basis to anyone who is:

A committed listener and enthusiastic inquirer.
Willing to love truth more than old beliefs that cause hard-hearted thinking and promote self-harm.
Willing to give of themselves so that you may actualize and experience their incredible potential.
Technical requirements:
If you wish to participate via video conference you will need a camera and a set of earphones. Hand held devices and mobile phones will not support video conferencing. If you prefer, you can simply listen in and type your comments and questions. Participants can sign in anonymously if they so choose.
###