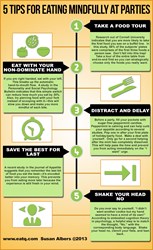 For many people, social eating is a slippery slope into mindless eating. Try eating with your non-dominate hand to shift out of autopilot eating.
Cleveland, Ohio (PRWEB) December 18, 2013
Keep your belly happy this holiday. You can eat festive foods without overdoing it using these five research-based strategies by Dr. Susan Albers, psychologist and author of the new book, EatQ: Unlock the Weight Loss Power of Emotional Intelligence. For many people, social eating is often a slippery slope into mindless overeating. In addition to the abundance of good food, parties and holiday celebrations can tap into emotions that often lead to comfort eating. Munching tends to increase when you are worried about your appearance, fitting in, experiencing relationship tension or are struggling to make conversation. Arm yourself with a few new tools to navigate festive events without comfort eating or overindulging.
5 Tips for Eating Mindfully at Parties
1). Take a Food Tour. Research out of Cornell University indicates that you are more likely to take the first food you see on a buffet line. In this study, 66% of the subjects' plates were comprises of the first three foods a person saw. Don't fall into this trap! Take a tour of the entire table from end-to-end first so you can strategically choose only the foods you really want.
2. Eat with Your Non-Dominate Hand. If you are right handed, eat with your left. This breaks up the automatic hand-to-mouth flow. A study in the Personality and Social Psychology Bulletin indicates that this simple switch can reduce how much you eat by 30%. Also, try piercing food with your fork instead of scooping with it—this will slow you down and make you more mindful of each bite.
3. Distract and Delay. Before a party, fill your pockets with sugar-free peppermint candies. Peppermint is calming to the stomach according to research in the journal Nutrition in Clinical Practice and it can help curb your appetite. Pop one in after your first plate of holiday/party food. Make a deal with yourself. Only go for a second helping after the mint has completely dissolved. This will help pass the time and prevent you from acting immediately on the "I want" urge.
4. Save the Best for Last. A recent study in the British Journal of Nutrition suggests that you remember the last bit of food you eat the best—it's encoded better into your memory. This prevents you from eating more later because the experience is still fresh in your mind.
5. Shake Your Head No. Do you ever say to yourself, "I didn't want another cookie but my hand seemed to have a mind of its own!" According to Embodied Cognition Theory in psychology, a helpful step is to match the thought, "No," with the corresponding body language. Shake your head no, clench your fists, and lean back.
To learn more smart, easy strategies, sign up for Dr. Albers newsletter on http://www.eatq.com. You will get a free bonus download of 25 Ways to Enjoy Holiday Foods Without Overeating! Or, "like" Dr. Albers on http://www.facebook.com/eatdrinkmindful.