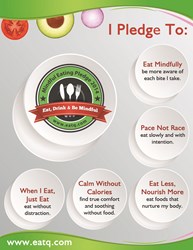 Fad dieting is like a rocking chair-it may seem like you are moving forward but you tend to end up right back where you started.
Cleveland, Ohio (PRWEB) December 31, 2013
For the millions of Americans who are thinking about starting a diet on January 1st, Dr. Susan Albers, psychologist and author of EatQ, is extending an invitation to try something new this year, the Mindful Eating Pledge. This pledge outlines five behavioral changes geared to shift people out of the holiday eating mode and help them enter the new year on a healthier foot.
Put simply, mindful eating is about consuming food with more awareness. Eating mindfully prevents "autopilot eating" such as mindlessly popping food into your mouth while watching T.V., eating at mealtimes whether you are hungry or not and consuming comfort foods to ease stress. Studies show that making these small behavioral changes can have a significant impact on improving one's health and weight.
What is in the Mindful Eating Pledge? Just agree to do the following:

Eat Mindfully—be more aware of each bite.
Pace Not Race—eat slowly and with intention.
When I Eat, Just Eat—eat without distraction.
Calm Without Calories—find true comfort and soothing without food.
Eat less, Nourish More—eat foods that nurture my body.
The Mindful Eating pledge is good news for people who struggle to maintain their New Year's Resolutions. "Outcome goals" (lose five pounds) often lead to frustration and are quickly abandoned. It's difficult to wait for a long term payoff with no guarantees. A "process goal" (eat without distraction) is something you can take charge of now. It has immediate benefits such as enjoying food more, preventing overeating and feeling overly full.
Changing your eating habits is not easy. However, doing it with intention and a smart strategy can make it simpler and within reach. Put away the fad diet books and obsessive calorie counting. Sign up to take the Pledge and get free Mindful Eating Tools sent by email throughout the year. http://eatq.com/mindful-eating-pledge/. Download the pledge. Hang it up on the refrigerator. Pass it on.
Learn More About This Approach: in Dr. Albers new book, EatQ: Unlock the Weight Loss Power of Emotional Intelligence. Dr. Albers is a psychologist at the Cleveland Clinic and author of the new book, EatQ (HaperOne, 2013), Eating Mindfully, and 50 Ways to Soothe Yourself Without Food. Dr. Albers is frequently quoted in Shape, Fitness, the New York Times, Wall Street Journal etc. and she has been a guest on the Dr. Oz show.