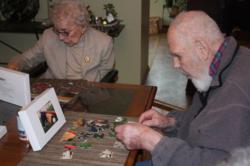 "The MindStart website opens doors so individuals with dementia can continue to live active and joyful lives."
Minneapolis, MN (PRWEB) April 26, 2012
Today 5.4 million Americans are living with Alzheimer's disease or other forms of dementia. Over 15 million family members or friends serve as caregivers (Alzheimer's Association Facts and Figures 2012). These caregivers watch their loved one struggle with everyday tasks and lose memories of their life. Caregivers often do not know the steps to take to help the person keep "doing things" or staying active. The new MindStart website at http://www.mind-start.com provides both original Alzheimer's activity products and education for family and professional caregivers on how to keep the person active and engaged, despite loss of functional skills.
The activity products featured on the MindStart website are expert designed and made specifically for individuals with dementia and their caregivers. MindStart products include large piece jigsaw puzzles, memory books, dementia games, word searches, and more. Products can be used with people at various stages of dementia and include user guides to help caregivers to choose the right level of challenge for the person. Multiple photo images and product videos are available through the website, to allow customers to see the products in use.
In addition to the products, the new MindStart website also includes additional content, including:

A section on how dementia affects the ability of the person to "do things."
Easy tips and techniques to help caregivers incorporate activity into the day of the person with dementia.
The latest Alzheimer's and dementia care research on the use of activity engagement, or cognitive stimulation, in dementia care. A 2012 report by the Cochrane Review found that, "activities that provide cognitive stimulation have a beneficial effect on the memory and thinking test scores of people with dementia… benefits that were over and above any medication effects."
A section that describes how staying active serves as a form of therapy for the person with dementia and how the MindStart products might be used in this therapy.
A blog with informative posts about dementia care techniques and noteworthy dementia-related news.
Access to the MindStart Facebook page, LinkedIn account, newsletter sign-up, and MindStart YouTube channel, which features videos about the MindStart products and videos about keeping people with dementia active.
The MindStart website is a valuable resource to both families and professional staff. It has already reached nearly 50 countries around the world. Monica Heltemes, OTR/L, founder of MindStart and occupational therapist, explains that people living with Alzheimer's and other forms of dementia and their caregivers are starved for more information and resources. "Unlike medical conditions that are well known, Alzheimer's is a hidden disease, for which most people do not understand, know how to handle, or are afraid to talk about. We need more resources, products, and overall awareness to help people living with dementia to have active and joyful lives. The MindStart website opens doors for educating caregivers and offers tools to use, so that the person with dementia can continue to live an active and joyful life."
Learn more about keeping people with dementia active at http://www.mind-start.com.