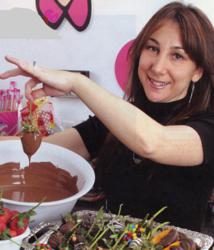 Mindy's Munchies is the original cure for your cravings.
River Vale, New Jersey (PRWEB) November 11, 2011
What began as a hobby over 10 years ago, has become a "sweet" success for Mindy Mosca, proprietor of Mindy's Munchies, in River Vale, NJ. "I was dipping chocolate covered pretzels for friends' parties and after continuously receiving rave reviews, I decided to turn my love of chocolate into a business."
CHOCOLATE COVERED EVERYTHING
The pink polka-dotted retail store that opened 5 years ago is stocked with chocolate covered munchies of every variety. The signature pretzels, chocolate covered grahams and marshmallows are surrounded by new creations, such as potato chip clusters, butterscotch espresso bark and her special 'Marshmallow Mountains™.' Long-stemmed strawberries, made fresh daily, are dipped and accented with toppings such as toffee, coconut and crushed cookies. All chocolate is dipped on premise and special orders are always welcome. Since the store ships nationally, a large majority of orders are placed online especially those from corporate clients. "Our website continues to be a strong part of our business, allowing us to reach a large audience of fellow chocolate lovers. I regularly ship to a customer in Hawaii."
CHOCOLATE IN THE MEDIA
This summer Mindy's Chocolate Treats were part of Z100's Elvis Duran Morning show where everyone got an on-air taste of her chocolate covered munchies. Recently, the NY Times profiled Mindy's Munchies, calling her Marshmallow Mountains 'decadent.' In 2009, The Rachel Ray show treated the audience to Mindy's samples in the "Saw it, Want it, Get It" segment. ABC News visited the store just a year after it opened to see how it all happens behind the scenes, and the newsroom anchors called her Chocolate Creations 'the best ever.'
Many local publications have featured this entrepreneurial business over the course of her success, including The Bergen Record, Pascack Valley Magazine, and Bergen Health & Life, who featured her in their 'Faces of Bergen' article.
CHOCOLATE – AND MUCH MORE
The retail location opened in July 2006 and has become a destination for both original loyal customers and new ones. The store has outdoor and indoor seating, serves yogurt, cupcakes and coffee. Neighborhood children fill the pink polka-dotted store in the warm months, walking in for a sweet treat after school. Mindy appreciates the sense of community support that she has received over the five years, as customers stop by to chat or offer a suggestion for a new combination of munchies. Many of her newer creations are a result of customer feedback which she always encourages. Mindy's Munchies gives back to the area in many ways through her support of local fire, police and EMT, recreation teams, schools, religious institutions and families in need.
Another business avenue that Mindy has developed is hosting children's chocolate-dipping parties in her store. She can accommodate as many as 20 children who dip, swirl and sample chocolate amid the pink polka-dots.
Mindy's Munchies is an example of small business at its best: a great idea, a solid business plan, inexhaustible dedication, tremendous focus, superior customer service and a loyal following. The logo's smiling pig-tailed girl invites us to watch this chocolate business as it moves into the future and grows – one chocolate covered pretzel at a time.
Mindy's Munchies is located at 215 Rivervale Road, River Vale, NJ 07675 / 201 664 1650. In addition to chocolate covered treats, strawberries, nuts, fudge, chocolate platters and assorted chocolate gifts, the store sells coffee, fresh cupcakes, yogurt, and signature apparel. For more information contact Mindy Mosca. http://www.mindysmunchies.com
# # #