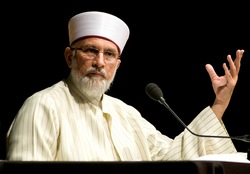 I feel it is my duty to save the younger generation from radicalization and wave of terroristic recruitment in the West.
Washington, DC (PRWEB) April 11, 2011
A leading Muslim authority, Dr Muhammad Tahir-ul-Qadri, who recently made headlines on CNN, BBC News, Al Jazeera, Washington Times and Foreign Policy for declaring the most comprehensive condemnation of terrorism to date after 9/11, will participate and speak at the U.S.-Islamic World Forum 2011 in Washington DC which is due to start tomorrow.
Dr Tahir-ul-Qadri is one of the leading Muslim scholars who is regarded as the most outspoken on counter-terrorism and emphasis on promoting integration and interfaith dialogue to tackle Islamophobia in the West. Therefore, participation at the U.S.- World Islamic Forum is seen by experts as a significant step which will help to fight terrorism from an ideological and intellectual perspective and stop home-grown radicals which is one of a significant threats Obama administration is currently facing because home grown plots have reached highest levels. US Government officials will also meet Dr Qadri during the 3 day conference.
Dr Qadri has been requested to speak at five different sessions on issues like integration and identity, the impact of media and politics, security and counter-terrorism, the treatment of minorities, and interfaith relations. He will present practical solutions as he also voiced at the World Economic Forum Annual Meeting 201 in Davos.
He will say that "In order to effectively deal with counter-terrorism there is a need to promote social cohesion, multiculturalism and integration."
He will say that "the model of isolation and assimilation should be avoided to promote social cohesion."
He will also say that "in order to bring the humanity closer, there is a need to launch interfaith dialogue among civilizations and build bridges between faiths in order to avoid a clash of civilization."
He will also speak about his recently released English version of the 500-page Hardback 'Fatwa on Terrorism & Suicide Bombings' which has been an unprecedented direct ideological blow to terrorist groups and completely rejects the notion that suicide bombers will enter paradise. It declares that suicide bombers are excommunicated from their faith and they will go to hell. This Fatwa on Terrorism is a significant step in taking Islam back from the radicals especially in the tribal areas of Pakistan. Dr Qadri was involved a member of Parliament in Pakistan and was a close associate of the late Benazir Bhutto. He resigned from politics in to General Musharraf's failure to eliminate corruption and terrorism.
In his struggle to fight terrorism and extremism, Dr Qadri has been promoting his message of peace and anti-terrorism at several different occasions around the World. At a grass-root three-day anti-terrorism camp in Britain in August 2010 attended by hundreds of young people from Europe and America to be de-radicalised, Dr Qadri had said, "I have announced an intellectual and spiritual war against extremism and terrorism."
He added, "I feel it is my duty to save the younger generation from radicalization and wave of terroristic recruitment in the West." He requested the younger generation "follow the Prophet Mohammed, don't follow bin Laden!"
The Associated Press reported about that event that Dr Qadri said, "we want to give youngsters a balanced view of Islam and to remove the misconception of what jihad actually is." It further reported him saying, "Extremists have confined the act of jihad to the act of militancy and violence which is totally wrong according to the Quranic commandments."
AFP had reported "for many attendees, one highlight was the opening speech by Tahir-ul-Qadri, the Canadian-based founder of moderate Islamic NGO Minhaj-ul-Quran International, during which he spoke out against Al-Qaeda mastermind Osama bin Laden."
Many Muslims, non-Muslims and government officials of various countries consider Dr Qadri as an authoritative figure in the Muslim world who is openly condemning suicide bombings and terrorism which is helping to tackle growing Islamophobia and clarifying the misconceptions intellectually and academically and helping Islamic youth from getting brainwashed and fell for the agenda of the terrorists.
Shahid Mursaleen, spokesman of Minhaj-ul-Quran said "This visit to the US-Islamic World Forum is very significant and Dr Qadri will highlight the fact that the terrorist groups justify their mass killings with wrong interpretations of the religious scripture. It will also help to fight home-grown radicalism in the west."
He added "Dr Tahir-ul-Qadri has demolished the ideological arguments used by the terrorist groups and prepare the Muslim youth with sound religious arguments to tackle extremism and promote integration and interfaith dialogue to live in peace."
The Hardback book Fatwa on Terrorism and Suicide Bombing can be purchased online from http://www.minhajpublications.com
For meetings or interview requests with Shaykh Dr Muhammad Tahir-ul-Qadri or further information please email our spokesman to shahid.mursaleen(at)minhaj(dot)org or phone 571-488-4536.
###