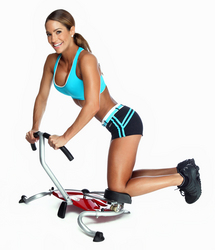 My Mini Circle has all the same benefits and features of my #1 Global hit, the Ab Circle Pro. However, its more portable, half the size and also half the price! This will allow so many more to afford it, helping me get more to workout on less money.
Miami, FL (PRWEB) March 28, 2010
JNL helped to invent the Mini Circle for many reasons. JNL got back into the think tank, brainstormed with her elite team of engineers to create her latest fitness equipment product: The Mini Circle. She helped to invent it, due to the overwhelming success of her #1 global hit, the Ab Circle Pro. However, she did notice that many wanted to invest in the Ab Circle Pro, but many did not have the extra $200 in their budget to do so. On a mission to improve the quality of everyone's lifestyle through fitness, JNL master minded her next move, which was to take the exact same award winning benefits and features of the Ab Circle Pro, and then create the Mini Circle-which is half the size, smaller, more portable and weight less. And in addition, she lowered the price point. "Making the Mini Circle allowed me to keep all of the exclusive features of the Ab Circle Pro, such as its circular technology, but make it more cost efficient to manufacture, and then sell. I am proud to announce that my Mini Circle is at an average retail value of $99.00, cutting the price down of about $100. This new price point will allow so many able to purchase, due to it being more affordable."
The Mini Circle is already in high demand, however it will be hard to find and get one, as its only available for purchase through HSN. It is a new product, launching and premiering on April the 25th. Later on in the fall, the Mini Circle will be also available via infomercial sales, with a two minute commercial spot which will be aired in the third quarter of 2010.
It's a complete get fit kit, as JNL also includes three exercise DVD's and a Nutritional Guide to help you achieve your fitness goals.
JNL is an internationally recognized super fitness celebrity, and one of the world's most accomplished super fitness models, as she was recently crowned the WBFF Miss Bikini Diva World Champion 2 years in a row and was the cover feature model on the December issue of Iron Man magazine. Many of Jennifer Nicole Lee's fans tune into watch her HSN appearances to get a much needed jolt of "JNL" motivation, or at least to see what this modern day model turn mega mogul fitness fashionista is wearing.
JNL is a bestselling author (most recent book at http://www.MindBodyandSoulBook.com), top celebrity master trainer (now offering private one on one sessions at http://www.TrainWithJNL.com, lifestyle and wellness expert & highly sought after top fitness model having broken the fitness cover model record by gracing over 30 magazine covers in under 4 years. She has motivated millions with her international weight loss success story when she lost 80 pounds after the birth of her children. This multi-faceted modern day mom turned Mega-Model Mogul.
Her international weight loss success story has inspired millions and has been the feature of many key media appearances such as Oprah, E! Entertainment, The Big Idea, Inside Edition, WE Entertainments 'Secrets Lives of Women", The Early Morning Show, and Fox & Friends, thus motivating the masses. Her portfolio of impressive work still grows as a super fast impressive rate, with 3 more covers to be launched in the very near future. JNL wears many hats, and seems to effortlessly float back and forth from being successful CEO of her own empire, author, Life Coach, Lifestyle Consultant, Team BSN Celebrity, and of course most importantly wife and mother-and lastly to add to her resume, part creator and spokes model to the Ab Circle Pro.
JNL's revolutionary Ab Circle Pro is history in the making, as it "takes the work out of working out" and it's "not exercise, but an experience". It's is in a league of its own, as it is the first to create the "Ab-Cardio" genre of exercise equipment, thus being second to none. It is famously touted as being a "treadmill for your abs" which helps you to get JNL's coveted sexy V-Taper. It has been selling extremely well on HSN and worldwide in over 90 countries.
When asked how it feels to be part of history in the making with the #1 hottest selling Ab-cardio machine in the world (based on global sales and media air time), JNL replies "I'm thrilled about it! I must do my part to keep the world motivated, even during these unsettling times. We must give ourselves the greatest gift we can-the gift of exercise, and now you can work out in the comfort of your own home with my Ab Circle Pro! To know that I am doing my job on a global level of helping people achieve their personal fitness goals gives me so much joy. My true passion in life is liberating people through fitness, wellness, and exercise. I am proud to be inspiring millions worldwide."
For more information on JNL, please visit http://www.JenniferNicoleLee.com and http://www.TrainWithJNL.com and also http://www.JNLAbCirclePro.com.
To see more of JNL, please subscribe to her YOU TUBE at http://www.youtube.com/user/TheJenniferNicoleLee
###