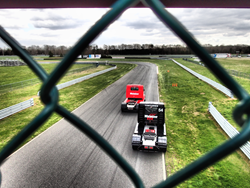 "I'm off to a good start. I just need to build on it." - Team Tested driver Trevor Kruckeberg
Blooming Prairie, Minn. (PRWEB) May 05, 2015
Brad Klemmensen walked away from the inaugural ChampTruck World Series event looking like Jim Carrey in Dumb and Dumber.
The Team Tortured driver suffered a chipped tooth in the first major wreck of his career Sunday, but still managed to finish the weekend sixth in points.
He's already had the tooth fixed, too.
"I'll be ready for California," Klemmensen said, laughing.
The other Minimizer-sponsored driver, Team Tested's Trevor Kruckeberg, was even better, finishing fourth in the points standings.
"I'm off to a good start," Kruckeberg said. "I just need to build on it."
Mike Morgan, in the No. 88 Mack, took home top honors at the New Jersey Motorsports Park.
Ricky Proffitt finished second and Mike Ryan was third.
The second race on the 2015 schedule is at Thunderhill Raceway in Willows, Calif., May 23-24.