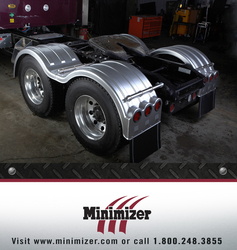 Blooming Prairie, MN (PRWEB) July 31, 2010
During most of Minimizer's 25-year history the company remained small and sold direct to end-users. The past several years has seen that model change.
Increased demand and freight costs moved the company towards a distributor network model. The company changed the pricing structure, promotion and place of doing business by establishing distributors and stocking product nationally. The product itself did not change.
Minimizer established special distributor pricing which maintained the same cost-effective pricing for end-users and allowed them to buy direct from their local heavy-duty parts distributor.
Promotional dollars are allocated to end-user advertising but also to distributors for in-store promotion, sales contests, customized sales literature and co-op advertising.
Distribution was designed to have product available locally on a national level. As part of this effort, Minimizer joined a buying group called VIPAR. VIPAR is a network of heavy-duty parts distributors with a footprint that largely serves Minimizer's goal of having product available locally on a national level.
After establishing the U.S. distributorship market Minimizer began to penetrate Canadian markets. From day one in Canada, Minimizer fender sales have exceeded goals. Several factors have added to this success:
1. By leveraging VIPAR's Canadian network Minimizer was able to have coast-to-coast Canadian distribution established in one year. Minimizer fenders are now available in all Provinces and all major cities in Canada.
2. Minimizer fenders are shipped daily throughout Canada to a variety of distributors.
3. OEM manufacturers of specialty trucks and trailers saw the benefits of Minimizer fenders in Canada and in some cases now specify the use of Minimizer fenders on several models of specialty trucks and trailers.
4. The country of Canada has climate and road conditions that are conducive to the use of full fenders. The harsh conditions in much of Canada, and specific industries such as oil and logging, make the environment a perfect fit for the "Tested & Tortured" guaranteed-for-life products of Minimizer.
5. Because of the good fit, word spread quickly. From British Columbia to Prince Edward Island, truckers began to understand that the Minimizer was the best fender to use.
Recently, to further expand Minimizer's presence in Canada, Minimizer joined an industry trade association called "Heavy Duty Distributors Council" (or HDDC). This group is composed of both distributors and suppliers to the heavy-duty market. A significant member of this council is distributor Fort Gary Industries, one of Canada's largest and most respected heavy-duty parts distributors. Graig Cardell is the branch manager for Fort Gary Industries in Saskatoon, Saskatchewan.
We spoke with Graig about the industry, Minimizer and Canadian market trends. "We're impressed with Minimizer's product. It fits well for Canada and how challenging the trucking environment is here. The distributor program they have in place, marketing materials and related support, is conducive to success," Graig said.
"Minimizer is going to become Canada's #1 preferred fender, we want to be there with them every step of the way. They are committed to catering to the specialized market of Canada," Graig added.
Specific adaptations that Minimizer has made for Canada include special axle spacing for Quebec and the Liquid Platium option that provides a shiny look for the Minimizer.
Minimizer fenders will enhance the performance of all makes and models of over the road trucks, construction vehicles, or agriculture equipment.
Enhance and protect your vehicle with Minimizer products. The toughness is unmatched as seen on this Minimizer promotional video entitled "Tested & Tortured".
To order Minimizer fenders find a distributor by clicking here. Minimizer fenders and related products are available through exclusive Minimizer distributors.
For more information or to contact a dealer, call us at (800) 248-3855 or visit our website or email us at info(at)minimizer(dot)com.
About Minimizer
Headquartered in Blooming Prairie, Minn., Minimizer manufactures poly truck fenders, poly toolboxes, customized mud flaps, and bracket kits. Family owned and operated for nearly three generations, Minimizer parent company Spray Control Systems, Inc., was founded in 1983. Minimizer aims to provide products tough enough to please tough people in a tough industry. For more information call (800) 248-3855 or visit http://www.minimizer.com.
###