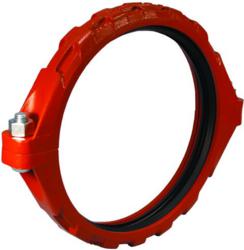 Easton, PA (PRWEB) April 10, 2012
Victaulic, the world's leading manufacturer of mechanical pipe joining systems, announces a major update to its Style 77 coupling. The two-piece coupling, a mainstay in the mining industry, is now available in 14 to 24-inch sizes (350 to 600 millimeters). The two-piece Style 77 was previously only available for pipe ¾-inch to 12 inches (20 to 300 millimeters); a multi-piece housing was required for pipe 14 to 24 inches in diameter.
The Style 77 coupling, designed for cut grooved systems, creates a flexible joint and is ideal for abrasive service piping, such as tailings and slurry lines. Maintaining the same design characteristics as the multi-segment coupling, the new two-piece design reduces handling and enables easier and quicker installation.
The Style 77 is rated for 300 psi service (2065 kPa) from 14 to 22 inches (350 to 550 millimeters), and for 250 psi service (1725 kPa) in the 24-inch size (600 millimeters). It is available with a grade "E" EPDM gasket for water services or a grade "T" nitrile gasket for air with oil vapors.
To learn more about the Style 77 and other products for the mining industry, please visit the Victaulic mining piping systems page.
About Victaulic
Founded in 1925, Victaulic is the world's leading producer of mechanical pipe joining systems. Headquartered in Easton, Pa., Victaulic has manufacturing and distribution facilities worldwide and employs more than 3,500 people. The company develops products and services for some of the world's most demanding markets, including oil, gas and chemical; mining; power generation; water and wastewater treatment; and military and marine systems; as well as commercial building and fire protection applications. Keep in touch with Victaulic on Facebook, Twitter or LinkedIn.