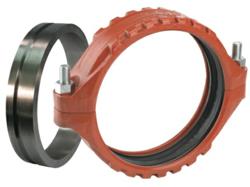 Easton, PA (PRWEB) September 27, 2012
Victaulic, the world's leading manufacturer of mechanical pipe-joining systems, introduces the AGS Vic-Ring System. The system eases the installation of and provides a strong connection for large-diameter pressure piping systems up to 72 inches (1,800 millimeters), while extending the service life of abrasive services piping.
The AGS Vic-Ring System consists of Style W07 rigid AGS (Advanced Groove System) couplings, Style W77 flexible AGS couplings and specially designed rings containing a patented AGS groove profile. Rings are butt welded to the pipe-ends, and the coupling is assembled on two rings—one on each pipe end—to complete the joint. Style W07 couplings create a completely rigid joint, while Style W77 couplings allow limited linear and angular pipe movement at the pipe joint that can be used to accommodate thermal expansion and contraction, vibration, seismic movement and other applications requiring flexibility.
The AGS Vic-Ring System simplifies the installation of large-diameter piping systems. The unique wedge-shaped key profile of the AGS groove results in easier initial assembly alignment. In addition, couplings in the 26 to 72-inch size range (660 to 1,800 millimeters) feature lifting lugs integrated into the housings to help ease handling during installation.
The AGS Vic-Ring System can extend the life of abrasive service piping systems by maintaining the full pipe-wall thickness and creating a smooth flow path. The center lip of the coupling's FlushSeal gasket creates a barrier between the pipe ends, ensuring a smooth flow path and allowing the couplings to be used on lined pipe. In addition, the couplings allow the pipe to be easily rotated, further extending the life of the system. The AGS Vic-Ring System is ideal for large-diameter slurry and tailings lines, as well as other abrasive services.
Style W07 and W77 AGS couplings are comprised of two ductile iron housings, which are connected with two or four bolts, depending on size. The couplings are provided with FlushSeal gaskets in EPDM, nitrile or silicone for a variety of services. Rigid Style W07 and flexible style W77 AGS couplings are available in sizes ranging from 14 to 48 inches (350 to 1,200 millimeters). The flexible style W77 AGS coupling is also available in 54 to 72-inch sizes (1,350 to 1,800 millimeters). The system is rated for pressures of up to 350 psi (2,400 kPa).
To learn more about the AGS Vic-Ring System and other products for the mining industry, please visit the Victaulic mining piping systems page.
About Victaulic
Founded in 1925, Victaulic is the world's leading producer of mechanical pipe joining systems. Headquartered in Easton, Pa., Victaulic has manufacturing and distribution facilities worldwide and employs more than 3,500 people. The company develops products and services for some of the world's most demanding markets, including oil, gas and chemical; mining; power generation; water and wastewater treatment; and military and marine systems; as well as commercial building and fire protection applications. Keep in touch with Victaulic on Facebook, Twitter or LinkedIn.
# # #