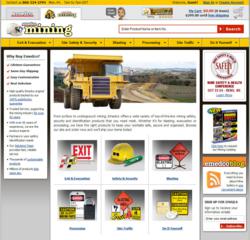 Buffalo, NY (PRWEB) October 11, 2012
Emedco, the leading manufacturer and distributor of safety and identification products, has launched the newest and largest one-stop online mining store. In addition to the new site, Emedco has also added just over 100 new products to the new website and its catalog.
The site offers an array of top-of-the-line mining safety, security and identification products for surface and underground mining. Emedco thoroughly researched Mine Safety and Health Administration regulations to offer unique mining products to comply with industry standards. In addition, Emedco spoke with many members of the mining industry and went to visit many mining sites, both above and underground to help meet the unique needs of in all mining environments.
Detailed product information is available on the mining site and throughout the catalog to help users make the best decision when choosing products. Users who have questions can call the Mining Hotline at 866-324-2794 to talk to friendly and reliable experts before placing an order.
Emedco partnered with mining experts and customers to formulate an online hub with everything related to mining. The site offers products that will keep work sites safe, secure and organized during blasting and processing.
Simply go to http://www.emedco.com/mining to choose from a wide selection of top-of-the-line products. Through Emedco's Design your own application, customers can easily customize hundreds of products to suit their needs. Most products ship the same day the order is placed.
###
About Emedco
Emedco has more than 60 years of industry experience catering to some of the largest multinational mining corporations down to the smallest quarries. Emedco offers over 225,000 products as well as a full line of custom products designed to provide safe and secure solutions for all businesses. For more information visit http://www.emedco.com.