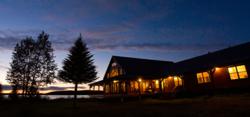 Minipi's waters lie at the center of the Brook Trout's ancestral home and provide the best brook trout fishing in the world.
Labrador, Newfoundland (PRWEB) June 11, 2013
Coopers' Minipi Lodges announces the completion of their luxury fly fishing lodge deep in the Labrador wilderness. Coopers' Minipi Lodges are known as one of the best fishing destinations for some of the world's largest Brook Trout "We're very proud of our new 6,500 square foot fishing lodge. It has all of the amenities expected of the discriminating fly fisherman, and then some," says Jack Cooper, owner of Coopers' Minipi Lodges. "We've listened to our guests over the past 35 years and built the perfect comfort lodge deep in the heart of the best fresh water fly fishing found anywhere. It's the perfect home away from home for both the seasoned and novice fly fishermen."
The newest of Minipi's three lodges is perched on the shores of Anne Marie Lake set in the heart of the Minipi watershed that was first discovered in the 1950's by the famous American sportsman Lee Wulff. The new lodge is both luxurious and rustic. It has accommodations for up to 10 anglers. All bedrooms have private bathrooms and a mini bar. The culinary staff ensures that all guests will dine in style in the spacious dining room with panoramic views of the lake. Anne Marie Lodge also has Wi-Fi high speed internet and satellite television to keep in touch with family and friends.
"While the new lodge is spectacular, the most important element of the Minipi experience is our helpful staff and knowledgeable guides", continued Cooper. "Whether you are an expert angler or a novice, we'll make sure you have the adventure of a lifetime."
Ed Quigley, expert fly fisherman and author of "Fly Fishing Advice From An Old Timer", a frequent guest of Coopers' Minipi Lodges says, "These unique waters lie at the center of the Brook Trout's ancestral home and provide the best Brook Trout fishing in the world. Come here and you'll catch 6, 7 and 8 pound Brook Trout on dry flies every day. Minipi should be on every fly fisherman's bucket list."
The Coopers launched their new web site: http://www.minipi.com to commemorate the opening of the newest and most luxurious fishing lodge in all of Eastern Canada. The web site provides the angler and vacation trip planner all the resources to explore the Minipi Lodge fly fishing experience and book their week-long adventure.
Thanks to the conservation efforts at Coopers' Minipi Lodges with their catch-and-release policy, the fly fishing is as good today as it was in the beginning, validating Cooper's Minipi slogan, "The Way It Was Is How It Is."