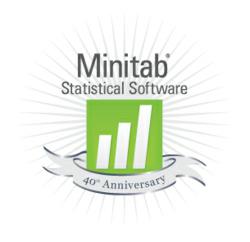 Selected stories may be featured on the Minitab Blog, on Minitab.com, or in a future issue of Minitab News.
State College, Pa. (PRWEB) July 11, 2012
Minitab Inc., the leading provider of software for quality improvement and statistics education, is honoring customers for supporting Minitab Statistical Software for 40 years by compiling customer stories and experiences that feature the company's flagship product.
Minitab encourages customers to visit Minitab.com and complete the "Share Your Story" form on the Minitab Blog to tell stories about their experiences with Minitab software. Stories can include memorable uses of Minitab from over the years, and how customers use Minitab tools and functions to achieve goals today.
Selected stories may be featured on the Minitab Blog, on Minitab.com, or in a future issue of Minitab News.
Visitors to Minitab.com can also see a thank-you video from Minitab employees and partners, a personal message from Minitab's President and CEO, Barbara Ryan, and an interactive timeline of product events and milestones.
Minitab Statistical Software was first developed in 1972 by Ryan and two other Penn State statistics instructors who wanted to incorporate computers into the teaching of college statistics courses. At the time, students were using desk calculators to perform tedious statistical calculations.
"Using Minitab to perform the calculations freed students to concentrate on learning what really mattered—the statistical concepts," says Ryan. "From the start, our goal has been to make data analysis easier."
In the early 1980s, the use of Minitab expanded to academic institutions in other countries and to business and industry. As students used Minitab in the classroom, the software migrated with them into their careers. When organizations began adopting statistical quality improvement methods in the late 1980s, Minitab's ease-of-use made the software the top choice of consultants and companies implementing Six Sigma.
Minitab has evolved over the years, responding to customer and market demand by adding numerous new features and quality tools while continuing to develop a product that's easy to use.
Minitab is celebrating the anniversary and thanking customers online and at tradeshows and conferences through the end of the year. Customers can keep up-to-date with 40th anniversary events by visiting Minitab.com, and by following Minitab on Twitter, LinkedIn and Facebook.
About Minitab
Minitab Inc. is one of the world's leading developers of statistical and process improvement software. Thousands of distinguished companies use Minitab software, including Toshiba, DuPont, Boeing, Royal Bank of Scotland, Nestlé and Pfizer.
Minitab Statistical Software has been used in virtually every major Six Sigma initiative around the world, and is used to teach statistics in over 4,000 colleges and universities. Quality Companion is used worldwide to plan and execute Six Sigma projects. Quality Trainer is an online e-learning course that teaches statistics for quality improvement. All Minitab products are backed by outstanding services, including training and free technical support.
Minitab Inc., headquartered in State College, Pa., operates offices in the United Kingdom, France and Australia and has additional representatives throughout the world.
A free, fully functional, 30-day trial version of Minitab 16 Statistical Software is available at http://www.minitab16.com.