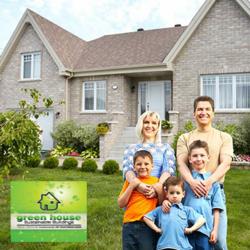 "Green home improvements often are less costly to maintain, and certainly can prevent future high medical costs that may be incurred without making necessary home upgrades" ~ Jenna Thuening
Minneapolis, Minnesota (PRWEB) February 12, 2013
Green home remodeling trends are on the uptick according to American Housing summary by the Joint Center for Housing Studies of Harvard University recently released study. Findings are that luxury homeowners and those who hire professional remodelers are more likely to install energy-efficient products and services in their existing homes. However, do-it-yourself homeowners can research and closely follow the study's finding to often achieve the same green results.
Home Destination's owner Jenna Thuening says, "Many Minneapolis homeowners ready to embrace greener homes ask about the costs of green home remodeling. Think of it this way, it is an inexpensive alternative to offer your family to reduce their risk of lung cancer, or other health risks that exist in many previously owned homes. Green home improvements often are less costly to maintain, and certainly can prevent future high medical costs that may be incurred without making necessary home upgrades".
While energy efficiency is a high priority, homeowners additionally show a growing interest in responsible environmental sustainability. Harvard's recent survey of home remodeling contractors indicated that high-efficiency toilets, low- or no-VOC paints, and mold resistant gypsum wall panels are among the most popular green products used in green home remodeling projects. "In 2012, the share of remodeling revenues from projects promoting environmental sustainability (24 percent) approached the share from projects designed to increase energy efficiency (32 percent)." according to the housing study results.
"Most homeowners green remodeling projects achieve multiple goals, and they benefit from a higher quality of home-life as well," adds Thuening.
A green home remodel is intentional to reduce health related problems caused or aggravated by mold, radon, carbon monoxide, formaldehyde, and toxic chemicals (Volatile Organic Compounds). To achieve superior indoor air quality to protect families, a home remodeler will pay very close attention to a home's moisture control systems, active radon management, building materials and finishing products installed. HVAC systems (heating, ventilating, air conditioning and filtration) and combustion venting systems are a few to mention. Remodeling a home with a green-friendly goal is forward thinking that a healthy home is all about protecting the health and welfare of the household.
The National Association of Home Builders (NAHB) surveyed home builders in a study to determine how widely used green home remodeling is across the Unites States. Here is Home Destination's summary of the most recent findings:

87% of home remodelers surveyed by NAHB already incorporate low-emissivity green energy efficient windows into home remodeling projects
70% determine how much insulation and home needs and then upgrade existing home insulation to recommended R-levels.
60% install argon gas windows to create higher air quality in a home and to create a light-filled home that leans less on turning a light on.
Over 80% of remodelers use alternatives to dimension lumber to minimize the amount of lumber taken from old-growth forests, such as recycling from previous structures and using engineered lumber.
86% install Energy Star®-rated kitchen appliances.
70% of remodelers already incorporate recycled or recyclable materials into their projects and are conscious of recycling construction site waste materials.
72% of home buyers report energy efficient features in a home would influence which home they ended up buying.
61% of real estate buyers would spend more than $5,000 upfront to save on utility costs.
The U.S. has about 125 million single-family homes with the majority built before energy efficiency developments, suggesting a huge market for green remodeling.
"Minneapolis home buyers often seek winter's warmth in and heated flooring and carpeted updates. Overall, Minnesotans have definitely embraced greener homes." says Jenna. Heat, water, weathering or aging can impact a home's flooring to the point where it is considered "friable". Friable flooring is when any material containing more than 1 percent asbestos has deteriorated to where it can be crumbled, pulverized or reduced to powder with hand pressure. The Minnesota Department of Health (MDH) recommends using a licensed asbestos contractor to remove asbestos-containing flooring during home improvements. Harmful components are commonly found in older floor tiles and vinyl floor sheeting (Linoleum). They need to be removed safely while a homeowner is installing new carpets, tile or hardwood green-friendly flooring..
Whether you're a homeowner on the cusp of making home improvement decisions or pondering things to do to prepare to sell, there are green resources and information that can help you sort through the options available.