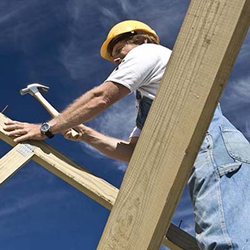 "A lot has changed in the past few years, and comprehensive plans adopted before the downturn may need to be revised to ensure that a city is well positioned to take advantage of the emerging recovery." ~ Marisa Helms in June's Minnesota Cities
Minneapolis, Minnesota (PRWEB) June 29, 2013
Twin Cities residential permit statistics released June 28, 2013 underscore that the region's residential construction market continues to fortify gains. The number of new construction permits issued boasted a 12-month high, while planned units in June were up by 64 percent over June of 2012. Running consecutive improvements monthly for a full year, year-to-date planned units continue at their highest level since 2007. According to data compiled by the Keystone Report for the Builders Association of the Twin Cities (BATC), Twin Cities home builders drew 496 permits for a total of 912 units during the four weeks in the month of June, 2013.
"Lingering snow and downpours of rain have not dampen home buyer's eagerness to schedule showing of new home listings this Spring. Responding to the high buyer demand, Twin Cities home builders have doubled construction in spite of labor and weather snags," says Jenna Thuening, owner of Home Destination.
"As the year progresses, evidence continues to grow that the housing market is truly rebounding across the region." said Pamela Belz, Builders Association of the Twin Cities 2013 president and developer with Senior Housing Partners. "And growth is happening in spite of both a labor shortage and delays caused by the out-of-the-ordinary weather we've had. The long winter kept road restrictions on longer than usual.
Twin Cities home builders upped residential construction over double to $332.2 million in May compared to $159 million in May of 2012, according McGraw Hill Construction.
Out-preforming non-residential construction, calculated from January through May 2013, total residential construction rose 70 percent to $1.067 billion. Powering up the Twin Cites economy, that's a climb from the $629 million in the first five months of 2012. Taken in McGraw's tally are Twin Cities metro regions including Anoka, Carver, Chisago, Dakota, Hennepin, Isanti, Pierce, Ramsey, Scott, Sherburne, St. Croix, Washington and Wright in Minnesota and Wisconsin.
HSH housing market trends released news that over the past 11 months, built-and-ready to sell homes has risen from 142,000 units to May's 161,000. The article says mortgage rates vaulted to multi-year highs and both demand and supply are tracking one another pretty closely. With substantial improvements in sales of newly constructed homes, May figures were close to 29% above year-ago levels. Minneapolis residential construction is stronger than the national average.
"While improvements in home sales are encouraging, keeping in perspective that even with the steady rise, today's annualized sales tempo is about one-third of the peaks achieved before the housing boom, that's a scant half of what a "normal" housing market has historically produced, says Thuening. "Given the durability we have already seen, if interest rates continue to rise, our housing recovery should withstand it."
Twin Cities residential new construction activity increased for single-family and multifamily development in May. Having grown nationally for 23 of the last 24 months, single-family home construction spending increased to meet home buyer demand for new real estate listings.
To put that in perspective, total home spending is up 18.8% from April 2012 and has increased 35.7% from the cycles bottom point in 2009. Spending on new single-family homes has now increased for 22 of the last 23 months, increasing 1.4% over March. On a year-over-year basis new single-family expenditures have grown 38.6% and are up 81.9% from the cycle low pace set in mid-2009.
Zillow.com reported today that Minneapolis mortgage rates are better than U.S averages at 1 basis points lower than the national average of 4.20%. It's an edge that benefits Twin Cities home builders as well has the prospective home buyer. "Minneapolis mortgage rates for 30-year fixed-rate mortgages dropped 8 basis points from 4.27% to 4.19% on Friday. Minneapolis mortgage rates on June 28, 2013, are up 83 basis points from last week's average Minneapolis rate of 3.36%. For 5/1 ARM loans, Minneapolis mortgage rates charts show a rate of 3.11%," according to Zillow's website.
Home Destination offers real estate sellers and buyer a pleasant and positive experience during one of life's biggest decisions. Jenna Thuening's skills with clients help remove stress, remove uncertainty, create clear calm decisions, is forward thinking (covering what could go wrong), including a preventive plan so clients do not have to worry. Contact Jenna Thuening to engage her guidance when searching for Twin Cities real estate; buy and sell with confidence. Call 612-396-7832.