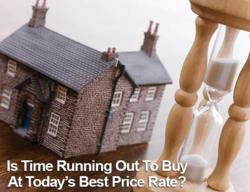 "The law of supply and demand suggests that if inventory remains tight, buyers will wage bidding wars on the few homes that are for sale. And prices, which have been rising, will jump further." ~ Minneapolis Public Radio
Minneapolis, Minnesota (PRWEB) April 09, 2013
Housing market indices that count and report on the number of home purchase contracts signed to buy previously owned homes rose in March to its highest level in nearly two years, up 12.8% from a year ago and 4.1% from February, the National Association of Realtors (NAR) reports. Higher demand from a strong Twin Cities real estate buyer pool and low housing inventory is culminating in surprising new numbers of bidding wars that push a home's prices higher.
"We are coaching prospective Twin Cities sellers of home's in prime locations that today it is not whether a new listing will get multiple bids, it is about how many and how fast a new home listing will gain incoming purchase bids. Real estate Analytics are attributing the steep rise in the number of bids, in part, to rapid price appreciation across the Metro," says Jenna Thuening, owner of Home Destination.
The NAR said, "It's not easy being a buyer". Being comfortable with budget allotments, pre-qualified for a quality loan, a good Realtor, and a good dose of determination are needed in such a competitive housing market. "In areas across the country, bidding wars are back. A recent Los Angeles Times article reports many housing markets have become much more competitive among would-be buyers," adds the report.
Today's report from the Minneapolis Area Association of Realtors (MAAR) reports new Twin Cities housing numbers and prices for the week ending March 30:

New Listings of homes for sale have decreased a further 12.1% to 1,349
Pending Home Sales increased 12.0% to 1,210
Further absorb-ion of Housing Inventory caused a decrease of 29.6% to 12,909
For the month of March, home prices increased significantly and the housing inventory decreased even more in proportion. Here is how Home Destination sees it:
Median Home Sales Price climbed 17.4% to $176,000
A strong buyer pool limited days on Market, down 24.3% to 109
Percent of Original List Price Received increased 3.1% to 95.0%, some due to bidding wars
Months Supply of Inventory decreased sharply 40.0% to 3.0
Some home buyers are finding it hard to decide if it is best to pay more for a home today, compared with a year ago, or to possibly pay even more later this year at a time when interest rates might also be higher. One client said, "I have been looking for over a year now and in the beginning I was pretty willing to pass and wait for to find another home for sale. However, after losing out on TWO homes, where if I had bid just slightly higher, it could have meant I would have gained the winning bid and the home I wanted to buy".
The Wall Street Journal's quarterly housing survey reported broad low levels of inventory of homes listed for sale across the U.S. Housing inventory has declined sharply in all 28 markets tracked while home prices climb. "Real-estate agents consider a market balanced when there is a six-month supply of homes for sale. At the height of the housing crisis, in 2008, there was an 11.1-months' supply, states the article titled "Stunned Home Buyers Find the Bidding Wars Are Back". In March, there was a 6.3-months'
Home Destination advises buyers to be fully aware of Twin Cities real estate market conditions, "They may need to be willing to be 'reasonably aggressive' if facing a bidding war for the home they want. Increasing hone prices and the Twin Cities low housing inventory have combined to create an exceptional demand for sellers to list home that are ready to sell," says Thuening. "We are working hard to help bidders define their purchasing budget and to be creative in doing what it takes to make a home offer stand out."
Home Destination finds that real estate sellers who list a home in "ready to move in condition" in a desirable location have no problem gaining a fair price when selling. Potential sellers are still on the sidelines, while they have a great opportunity to sell. Minneapolis and St Paul home sellers looking to determine if now is the best time to sell their home may contact Jenna Thuening by calling 612-396-7832 today!