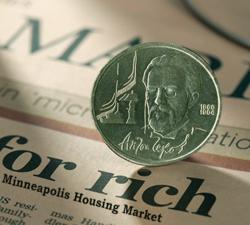 "The housing recovery will kick into a higher gear as the year progresses. We're going to get a lot of juice from the channels" through which it affects other parts of the economy." ~ Mark Zandi, Moody Analytics
Minneapolis, Minnesota (PRWEB) February 05, 2013
The Minneapolis Association of Realtors released their Annual Report on the Twin Cities Housing Market. Looking back, the numbers are stunning and reveal just how strong real estate is driving our economy upwards. Looking ahead, the Minneapolis housing market in 2013 commands center stage for an even stronger performance. The report says Minneapolis "ended 2012 with an 11.9 percent median price gain compared to 2011. At $167,900, prices have come down 26.6 percent from their bubbly apex in 2006. They have recovered from the air ball lows of 2011".
"Minneapolis is a home seller's market right now. It is a great time to sell your home, because real estate buyers are out there looking for properties," says Jenna Thuening, owner of Home Destination.
The S&P / Case-Shiller index of home property values in 20 U.S. cities increased 5.5 percent in 2012 through November, the biggest gain since August 2006, according to data released on Jan. 29. Minneapolis home prices have increased faster than anyone anticipated even a year ago, providing an important cushion for homeowners.
Minneapolis Case-Shiller Home Price Index:

Minneapolis, MN is at a current level of 123.73
Up from 121.44 last month
Up from 111.36 one year ago
A change of 1.89% from last month and 11.11% from one year ago.
1) Home Buyers With Low Down Payment - Homebuyers with low down payments will pay higher mortgage insurance premiums when they get a Federal Housing Administration mortgage.
2) Low Mortgage Rates Continue To Spur Home Purchases- Mortgage rates continuing near a record low may generate a third consecutive advance in home sales this year, and spur further homeowner property value increases. The newly accrued gains in home equity should boost consumer sentiment and spending, softening the news of property tax and home insurance premium increases.
3) Home Buyers And Homeowners Will Have Higher Insurance Premiums - The FHA says it will increase homeowner's annual insurance premium will increase says FHA. Added to a borrower's monthly mortgage payments, it will go up by 0.1 percent. It may sound like a small increase, but this hike is on top of numerous insurance premium raises the FHA has implemented since 2008 as part of its ongoing efforts to shore up the FHA's reserves. Industry observers say there's great potential for much higher increases this year.
Currently real estate buyers who seek FHA financing are charged about 1.25 percent of the total balance of their loans per year. Prior to the U.S. housing crisis of 2008, the charge was about 0.5 percent.
4) Rental Homes - In many parts of the country, rents will continue to climb as the housing supply of available rental apartments shrinks and demand rises. U.S. apartment vacancies dropped to an 11-year low of 4.5 percent last year's fourth quarter, according to real estate research firm Reis. Foreclosures, still-tight mortgage lending requirements and a weak jobs market are contributing to the surge in demand and rental prices.
5) New Rates For Luxury Home Buyers - The FHA to announced a proposal to increase down payment requirements for luxury home buyers that seek to carry mortgages with original principal balances over $625,500. The minimum down payment for high prices home mortgages will increase from 3.5 to 5 percent. "This change, coupled with the statutory maximum premiums charged for these loans, will help protect FHA and further facilitate its efforts to encourage higher levels of private market participation in the housing finance market", says HUD.
"Luxury home buyers who purchase their home with cash will gain one more advantage", says Thuening. "According to the July 12, 2011 Coldwell Banker Luxury Homeowner Profile, nearly 31 percent are cash buyers."
With mortgage rates at exceptional lows, the difference in higher insurance premium costs might not add up enough today to demand home borrower's notice. As rates are subject to rise, that deserves keeping an eye on. "Whether a homeowner is seeking a home loan modification, or considering a major home renovation, homeowners and home buyers who have not taken advantage of the historically low rates shouldn't waste time," urges Home Destination.
If you are seeking to buy or sell a home in Minneapolis or the Twin Cities metro in 2013, call Home Destination at 612-396-7832. It is an opportune time for homeowners and investors to take advantage of Minneapolis Housing's fabulous home sellers' market.