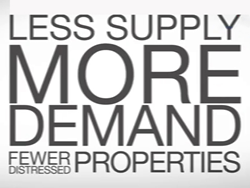 "With homes selling in half the time it took to sell a year ago, buyers must be both decisive and prudent. Advice with contract terms and negotiations is where the expertise of a Realtor shines for both buyers and sellers." ~ NAR President Gary Thomas
Minneapolis, Minnesota (PRWEB) May 23, 2013
[Minneapolis housing supply and demand is moving houses off the market at an increasingly fast pace as the Twin Cities hits magic numbers with new home sales in the Twin Cities up over 25 percent, according to the Minneapolis Association of Realtors (MAAR). America in 2013: A ULI Survey of Views on Housing April Report put out the Urban Land Institute, predicts that demand for single-family homes will continue to rise for infill residential development that is less car-dependent, while demand could wane for isolated development in outlying suburbs.
"The Twin Cities robust housing recovery is blossoming regardless of tight lending conditions and low housing inventory. Without these weights, existing-home sales might just hit the roof. Given the Twin Cities strong real estate recovery, the housing market has shifted from a buyers market to a sellers market in a rather short time," says Jenna Thuening, owner of Home Destination.
The ULI report found that seven in ten renters are hopeful that within five years, they will join the ranks of homeownership, keeping up the demand for housing. The survey determined that seven in every ten homeowners believe that buying a home is a good investment, undeterred in the aftermath of the housing and mortgage difficulties the nation has witnessed in the last few years. Additionally, two out of every five homeowners say they will move within the next five years.
In The University of St Thomas's Real Estate Market Report for March, there is a striking difference when comparing the total number of closed home sales from year-to-year: traditional home sales have increased significantly. The report states that, "In March of 2012 there were 1,885 traditional, non-distressed sales (51.8% of the total sales); in March 2013 there were 2,318 traditional sales (62.1% of the total sales), an increase in the percentage on non-distressed sales of nearly 20%. The past few months of traditional sales totaling at least 50% of all home sales is an encouraging sign that distressed properties are becoming less numerous". Increasing median sale prices means that fewer homeowners will have underwater mortgages and more homeowners who have felt trapped in negative equity will find they are free to sell their homes and become a move-up buyer.
The UST Traditional Sale Composite Index decreased again for in March (down 1.7%), moving from 990 in February to 973 in March. The decline is a reflection of a combination of several factors affecting Minneapolis housing supply and demand.
1) The housing index is based on a 3 month moving average. Even though the median sale price of a traditional home increased in March, the index is being influenced by the declines that occurred in January and February.
2) The index adjusts due to the exceptionally low number of housing inventory. Twin Cities home sellers have sufficient equity, it should be noted that despite the fact the index has been declining for the last several months, throughout that period it has remained well above the levels recorded in the previous year. March's Traditional Sale Composite Index of 990 is 6.8 % higher than the 911 recorded in March 2012.
Key findings in the weekly Minneapolis Housing Report called "The Skinny" for the week ending May 11th include:

New Minneapolis area listings increased 25.1% to 1,858
Pending home sales increased 16.2% to 1,305
Housing inventory decreased 27.5% to 13,556
Minneapolis Housing in the Month of April:
Median home sales price increased 12.0% to $182,000
Days on market decreased 28.1% to 97
Percent of original list price received increased 2.7% to 95.9%
Months supply of inventory decreased 36.0% to 3.2
Released yesterday in an article titled "April Existing-Home Sales Up but Constrained", the National Association of Realtors (NAR) found that in March of 2013 there were only 3.47 homes for sale for every closed sale. Since the beginning of 2012 the inventory level of homes for sale has been consistently running 25% – 30% below the previous year's level. NAR reports that the median time on the market for all homes decreased over 28% in April. The month also saw a median time on market of 97 days, down from 109 in March reshaping the housing supply and demand into a bustle of Spring sale activity.
Home Destination is a Twin Cities residential Realtor helps homeowners understand their local housing market conditions and its current housing supply and demand factors. Call 612-396-7832 to engage Jenna Thuening for a personal guide through the exciting process when sellers buy another home.