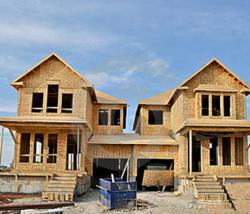 It (housing market) already provides an important lift as it always does in a recovery to the economy. It is just going to get better, once we get to a million starts, 1.1 million, which we are going to in the next couple of years." ~ Brad Hunter
Minneapolis, MN (PRWEB) November 19, 2012
Old news to builders but new news to the financial community is that the supply of lots for new construction of single-family homes is growing short very fast. Brad Hunter, chief economist for Metrostudy, talks about the U.S. housing market outlook and that the high demand for quality lots is an indicator that the housing market has returned to health. He speaks with Tom Keene on Bloomberg.
Putting reality behind what the lot shortage means to the housing recovery, Brad Hunter added some numbers. He said, "We are going from under 750,00 starts in the U.S. this year, to probably 890,00 next year, and it would be 930,000, 940,000 or maybe 950,000 if not for these shortages". Some quick math puts that in a stark perspective - the U.S. Housing Recovery could potentially be limited by 200,000 new construction starts in 2013 due to lot scarcity. Keen tells Hunter he is "way out in front in this recovery".
Destiny Homes owner Butch Sprenger says, "Today Minneapolis home builders are recognizing that the demand for new construction has come back in a big way". In order to embark on a new construction project, home builders start out by selecting a building lot on which their new home will sit. Today that has become a matter of fierce competition.
The demand is for 'A' and 'B' lots to build on; lots near work, schools, shopping, public transportation, medical facilities and recreation. Hunter explains that the 'C' and 'D' locations are too far, too remote from where the jobs are. It doesn't matter as much that there is lot inventory in that category, since those lots have lower demand at this point.
Ultimately, when the pendulum swing is demanding more homes on the market for waiting buyers, it is a great sign that the housing market is returning to a state of health. According to Hunter, "Demand is no longer as big of an issue as supply again. It kind of flipped. Back in pre-boom and during the boom, it was all about supply, During the recessions and the downturn in housing 2006 - 2010, it was, 'where are the buyers?' Demand was gone. Now demand is coming back in a big way and builders are struggling to get enough lots".
As defined by Brad Hunter from Metrostudy in the interview, "A finished vacant home means a builder has completed construction on a home and no one has moved into the home yet. The paints dry. The sod is in. Now one has moved in yet. That was a very important leading indicator for home prices during the boom, post boom and today".
A formal definition can be taken from Alabama's Amendatory Act. "Fully developed lot is defined as a lot or parcel located within a platted and recorded subdivision ·as,of September 1., 2011,; and having all available utilities in place, fully complying with the subdivision's regulations applying to the subdivision (if applicable), owned by the person or firm originally platting the subdivision, or a person or firm authorized by the Alabama Homebuilders Licensure board to construct single-family homes, and ready for construction of a single-family dwelling."
"We are all familiar with the mantra that three criteria exist to help buyers determine which home to buy - location, location, and location. This isn't trying to say that nothing else matters, but rather it simply underscores the significance that most prospective buyers attach to this factor in considering the desirability of a piece of real estate", says Butch. Simply, a home on an 'A' lot sells quickly. The shortage of quality lots to build on is limiting contractor's capacity to build.
Advance planning and gaining professional help to secure a lot may be needed in today's tight Minneapolis real estate market. Homeowners and perspective buyers planning to build a new home in the Twin Cities in 2013, can reach Butch at 952-934-5706 to talk about obtaining a lot for residential construction.