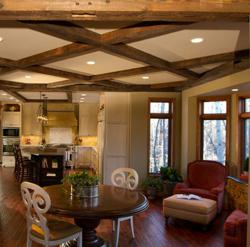 "Upscale buyers are "going back and doing more work on their homes. These [home owners] don't necessarily need more square footage, but they are feeling the want to update and increase the finish of their home." ~ Luxury Portfolio International
Minneapolis, Minnesota (PRWEB) January 10, 2013
Housing Affordability Index to Set Annual Record for 2012. Add that to the National Association of Realtors (NAR) report that sales of homes valued at $1 million or more spiked 51% in November compared with a year earlier, 2012 luxury home sales were up, setting the stage for homeowners of means to take advantage of low interest rates, another year of capital tax extensions, and a high demand for housing.
According to a CNN Money article titled "Luxury home sales soared in final months of 2012", sales of homes valued at $1 million or more spiked 51% in November compared with a year earlier. "All told, a high-earner would pay $88,000 less in taxes if they made a $1 million profit on their home in 2012 rather than in 2013".
Destiny Homes owner Butch Sprenger summed up 2012: "We are seeing the return of the 'move-up' homeowner. With the increase in home equities that the Minneapolis housing markets is experiencing, and home prices recovering, more and homeowners realize that now may be their greatest opportunity to build a new home to a lifestyle they always wanted, or take on a major home renovation. Sometimes new home buyers find it hard to comprehend that home values in one area of the country is not the same as home values in another part of the real estate housing market".
With the Housing Affordability Index positive outlook, home buyers are able to stay well within their means with interest rates so low, making it a perfect time to build or buy a luxury home. "Although 2012 was highest on record, the excessively tight underwriting precluded many would-be homebuyers from locking-in generational low interest rates. Rising home prices and a gradual uptrend in mortgage interest rates will offset improvements in family income, but 2013 likely will be the third best on record in terms of household buying power. A window of opportunity remains open for buyers who can qualify for a mortgage," comments Lawrence Yun, NAR chief economist.
With the Minneapolis housing market having one of the nation's best Housing Affordability Indexes, Destiny Homes finds clients maximizing home investments and preferring a luxury residential home of quality new construction including the following lavish home features:
1) Luxury Surface Finishes:
A distinguishing luxury home currently uses lavish special techniques for wall finishes, floor finishes and wood beamed ceilings or special paint finishes on the ceiling.
2) Home Spas And Infinity pools:
These seemingly endless pools are often being combined with a fire feature — such as standing urns — that reflects on the water at night. Use of high quality stone on interior home spas requires expertise skills and careful custom custom cutting for stunning and lavish results.
3) Theater Rooms Or Home Media Centers:
High-end theater rooms or home media centers that include comfortable seating, high-def TVs, digital cameras for video conferencing, and controlled sound systems are being housed in well-crafted paneled cabinetry with custom lighting. Built-in amenities maximize pleasurable moments, like the ease of a wet bar or small catering kitchen.
4) Gourmet Kitchen With Quality Appliances:
Gourmet kitchen remodels and dens with top of the line appliances for today's trendish home chefs are leading home renovation projects. Distinctive trim that is custom built, meticulous in every way, frames and showcases a home's unique features or living space.
5) Wood finishes:
More high-end homes are paying careful attention to grain patterns for wood finishes for a more personal look and focusing on elaborate staining processes that demand the skill of a professional painter. Brazillian cherry hardwoods, red oak veneer or ipe wood are distinguishing in their uniqueness and exceptional wood grain.
6) Wine cellar:
Wine cellar: Some homeowners prefer a windowless room for a private collection and other display the wine cellar with glass panel doors made of elaborate woods choices, which can be pricey given the rising cost of lumber.
In an actual real estate transaction, homeowners who follow housing market trends and indices are better informed for any given remodeling project. "Decisions on when and where to start a newly constructed home depends on a variety of factors. These include the condition of the local housing market, the value of similar homes nearby, and the rate at which single-family residential home and property values are changing in the surrounding area," states Sprenger.
Homeowners in the Minneapolis and surrounding area residential real estate communities ready to build or renovate their homes may reach either Butch or Liz by calling 952-934-5706.